Child refugees at higher risk of being trafficked if UK doesn't take them in, MPs warn
Published time: 6 Mar, 2017 12:47
Edited time: 7 Mar, 2017 13:56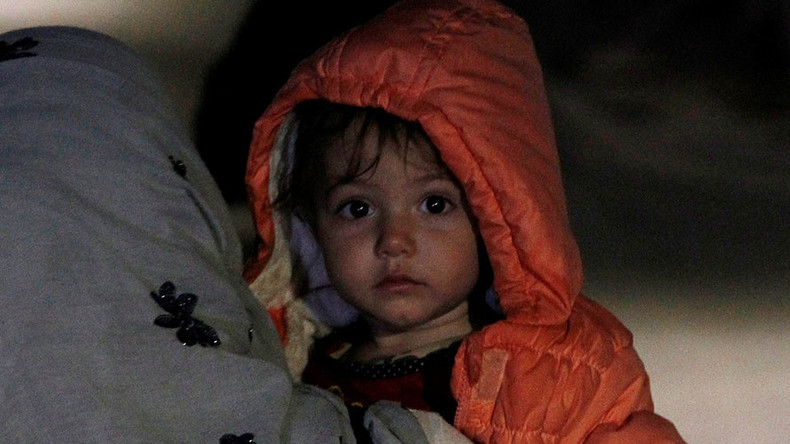 Scrapping the so-called Dubs amendment to keep child refugees from entering Britain will only increase their chance of falling victim to human traffickers, a group of MPs claims.
In an urgent report, the Home Affairs Select Committee, chaired by Labour MP Yvette Cooper, warns the government that scrapping the scheme would only be detrimental to child refugees, in contrast to the government's claim that scrapping the Dubs amendment would protect children.
The Dubs amendment was attached to the Immigration Act after being proposed by Lord Alf Dubs, a Holocaust survivor. Under the amendment, the UK pledged to take in 3,000 child refugees.
Home Secretary Amber Rudd last month announced the scheme would be shut down as it acts as a "pull factor" to desperate refugees attempting the perilous journey over the Mediterranean Sea and into Europe.
She also claimed the Dubs amendment would be scrapped as councils could not deal with the intake of refugees.
But since then councils have come out to say that they are still willing to help.
The report comes amid reports Conservative Prime Minister Theresa May faces a backbench revolt from within her own party tomorrow over the closure of the scheme.
According to the Mirror, up to 31 Tory MPs are expected to vote on an amendment proposed by Conservative MP Heidi Allen, which calls on the government to publish figures showing which councils are still available to shelter child refugees.
The committee's warning comes as charities advised that the government's intent to scrap the Dubs amendment and resettle just 350 child refugees instead of its initial 3,000 target will only increase the risk of minors being trafficked.
"There can be no doubt that closing a safe and legal route results in further pressures on them [children] to enter trafficking and smuggling networks," Safe Passage lead organizer George Gabriel told the committee.
The committee also challenged the government's claim that the scheme had to be scrapped as local councils could not afford to take in so many child refugees.
It questioned how thoroughly the government assessed local authorities' capacity, as evidence found that as many as 4,000 more children could be sheltered with central funding.
"There is a big gap between what the Government has said, and the evidence we heard from local councils and from organizations like UNICEF who are working with child refugees," Cooper said.
Cooper also called on the government to consult an independent anti-slavery commissioner to verify the increased risk of trafficking if the scheme ends.
"This is too important to get wrong when children's lives and futures are at risk. That's why we are making these urgent interim recommendations now," Cooper said.
The committee's report comes after an investigation by the Observer discovered there is far greater capacity for local councils to take in child refugees than that stated by the government, with a Freedom of Information request revealing there are at least 368 extra places available.
The Home Office stood by its stance that it would be safer to only take in children from refugee camps in and around Syria.
"This government provided 8,000 vulnerable children with refuge or other forms of leave this year and by the end of this parliament we will have resettled 23,000 people from Syria, the Middle East and North Africa – half of whom will be children," a spokesman said.
The Home Office's statement comes after Rudd slammed claims at the end of last month that the UK is not doing enough to resettle minors from war-torn countries, saying they were "fake news."
"Unfortunately, fake news is settling out there," the home secretary told ITV.
"The fact is, we took 8,000 children last year into this country and settled them," Rudd said. "Three thousand arrived unaccompanied and illegally and have been settled here. These numbers are large."