May accuses Sturgeon of 'twisting the truth' in Scottish independence bid
Published time: 3 Mar, 2017 12:01
Edited time: 5 Mar, 2017 09:53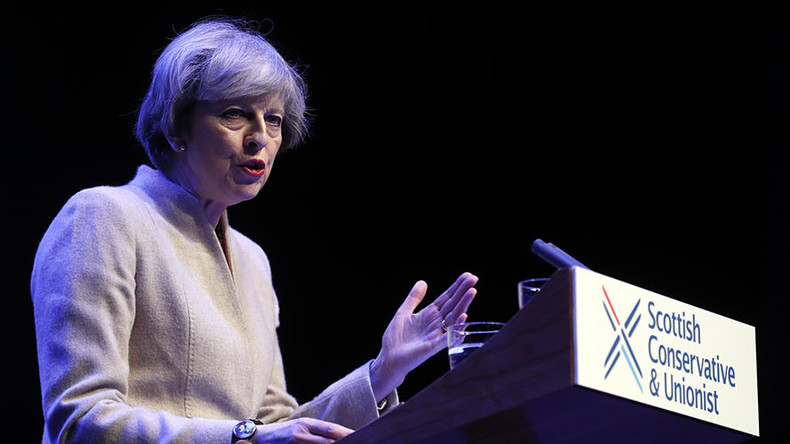 UK Prime Minister Theresa May used a speech at the Scottish Conservative Conference in Glasgow on Friday to accuse the Scottish National Party (SNP) of "twisting the truth and distorting reality" in its "obsession" with gaining independence from the UK.
May accused the SNP of "tunnel vision nationalism" which has resulted in public services being neglected.
She also accused the SNP leader, First Minister Nicola Sturgeon, of "playing politics" with Brexit.
The latest clash between May and Sturgeon comes as the first minister is expected to announce plans for a second independence referendum when the PM triggers Article 50, starting the UK's exit negotiations with the EU later this month.
It is "very clear" the Scottish people do not want another independence vote, according to May. She has not said whether she will grant permission for a referendum if the Scottish parliament demands one.
In an attack on public services, May said Scotland's schools had been "outperformed in every category" by those in England, Northern Ireland, Estonia, and Poland.
"People in Scotland deserve a first minister who is focused on their priorities – raising standards in education, taking care of the health service, reforming criminal justice, helping the economy prosper, improving people's lives."
"The SNP's neglect and mismanagement of Scottish education has been a scandal.
"The SNP will never stop twisting the truth and distorting reality in their effort to denigrate our United Kingdom and further their obsession with independence," he added.
"It is their single purpose in political life. And we need to be equally determined to ensure that the truth about our United Kingdom is heard loudly and clearly."
May said keeping the UK together is a "personal priority."
"There is no economic case for breaking up the United Kingdom, or of loosening the ties which bind us together."
Ahead of the PM's speech, Sturgeon told Bloomberg: "The Scottish government's approach since the EU referendum has been to offer compromise and to seek consensus at every turn. In return the UK government has so far been one of obstinacy and intransigence.
"Where we have spoken the language of consensus and cooperation, theirs has been the language of Westminster diktat.
"Where we have been prepared to offer a solution short of our ideal outcome, they have refused to seriously engage.
"And where we have offered compromise, we have been met by a brick wall of Tory intransigence."