'Shortsighted & nonviable': UK's lack of dialogue with Russia slammed in new parliamentary report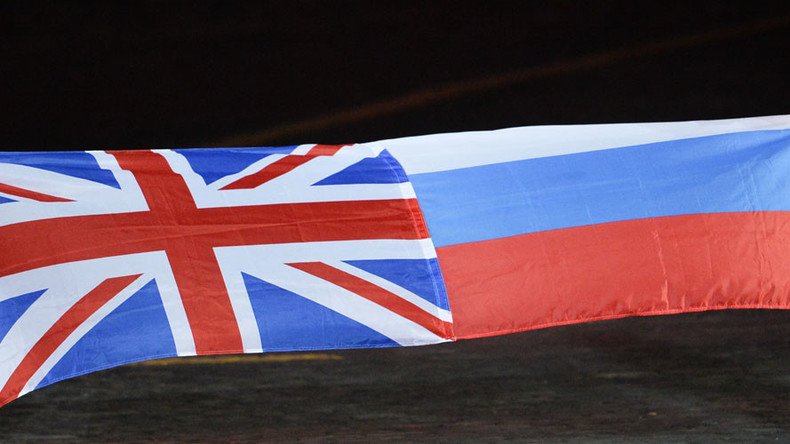 Britain's refusal to engage with the Russian government is not a viable long-term foreign policy option, parliament's Foreign Affairs Committee has warned, urging the Foreign Office to "clarify" its position and to conduct meaningful dialogue with Moscow.
In a report titled, 'The United Kingdom's relations with Russia,' the committee says Britain must clarify what it wants from relations with Russia and conduct regular political dialogue with the Kremlin, however uncomfortable such conversations might be.
"Refusal to engage with the Russian government is... not a viable long-term foreign policy option for the UK, because Russia is a European nuclear-armed United Nations Security Council member state," the report says.
"Such conversations might well prove uncomfortable, but they would at least allow the clarification of specific points of agreement and points of difference on issues such as counter-terrorism and provide a basis for progress towards improving relations."
The committee, chaired by Conservative MP Crispin Blunt, aimed to investigate the Foreign Office's policies towards Russia and the UK-Russia relationship.
Committee members interviewed academics, journalists, and critics to reach their findings, and traveled to Russia to speak to politicians, civil servants, business leaders and members of the media.
Speaking to RT's Going Underground, Blunt said the report aimed to shed light on why Russia/UK relations are in a "deep freeze."
"What we are trying to do is to produce a report that shows that we actually understand what has happened in the course of Russian history in the Soviet period, and how that has informed the Russian perspective of the west and the Russian narrative.
"The fact we have got to a place where our relationship is in a deep freeze … plainly something has gone badly wrong in strategic terms in the last quarter of a century."
The UK's relations with Russia are at their most "strained since the end of the Cold War," the report says, highlighting "fundamentally different perceptions of recent history" following the Cold War and situations in Ukraine and Syria.
The committee agrees with Prime Minister Theresa May's comment that when dealing with Russian President Vladimir Putin, the UK must "engage but beware." Its report recommends the appointment of a Foreign Office minister with specific responsibility for Russia.
'Fake news & propaganda'
The rise of 'fake news' in the UK is of real concern to the committee, with the report admitting, however, that doubts and questions over RT's and Sputnik's impartiality, integrity and actual news stories "remain unanswered."
"The UK regulator should continue to take action against examples of outright falsehoods in Russian state-sponsored broadcasting," without providing any examples though.
The report also did not elaborate much on what exactly the committee means by 'taking action', but suggested the Foreign Office should increase its support for "independent media" in order to "provide the Russian people and those living in neighboring states with a broad range of perspectives."
The committee gladly welcomed an increase in funding for the BBC World Service to enhance its broadcasting into Russia, however lamenting that this move also "inadvertently" supports "the contention of agencies such as RT and Sputnik that their operations are analogous to the BBC World Service."
Despite the appearance of conciliatory rhetoric, it seems the UK Parliament is "committed as ever to double standards" when it comes to its treatment of Russian media, RT's Press Office said.
"RT is summarily labeled as 'propaganda' for 'advancing a [Russian] narrative on world affairs,' while on literally the next page, the BBC is applauded for doing the exact same thing for its own country! UK watchdogs must keep RT under a microscope – but apparent fake news disseminated about RT and Russia on a regular basis by the British media get a free pass," it added.
"It is a pity that the Foreign Affairs Committee opted to fan the vanity of British institutions instead of building bridges or trying to understand their Russian counterparts. If 'key questions' about RT were 'left unanswered' it's because the committee did not care to ask them."
"The ability of broadcasters such as RT and Sputnik to operate in the UK should be considered a sign of British strength. Freedom of expression and freedom of the press are core British values in which the UK has justifiable confidence," the report states.
Chair of the Committee, MP Crispin Blunt, believes there "should be a free and fair competition between competing points-of-view, and if people adhere to proper standards and they broadcast on the base of evidence and facts, then that is a competition which should be allowed to go ahead."
"I think banning people is a singularly wrong thing to do. What you actually want is if people are broadcasting things that are simply not true then expose them and destroy their editorial reputation because what's being said is simply not the case," he added. "Obviously, all of this has to be evidenced."
Crimean referendum and sanctions
However, the report urged the UK and its allies to support Ukraine and not accept what it called "the illegal Russian occupation and annexation of Crimea."
Britain must also help Ukraine build its "social, political and physical infrastructure," to allow the country to engage with Russia on "a more level playing field."
In 2014, when a coup in Kiev resulted in the Ukrainian autonomous republic of Crimea voting to become part of Russia, and conflict emerged between Kiev and eastern Ukraine's Donbass region, the UK began imposing sanctions on Russia.
The report warned it will be increasingly difficult to sustain a "unified western position" on sanctions, "not least if they become a bargaining point during Brexit negotiations."
"The UK faces the possibility of becoming an isolated actor supporting a policy towards Russia that is failing. This could lead to further damage to Britain's long-term ability to influence Russia," the report said. "The UK national interest would be served if Ukraine had positive relations with both Russia and the West."
Kiev has consistently accused Moscow of sending weapons and troops into the rebel-controlled territories. However, hard evidence of these claims has ever been presented and Russia continues to deny the accusations.
'Must provide evidence of allegations of Russian breaches in Syria'
British government officials have accused Russia of committing war crimes but have not published any evidence to support their claims, the report says.
"The government is right to call out the Russian military for actions that potentially violate international humanitarian law (IHL)," the report noted.
"However, if the government continues to allege that Russia has committed war crimes in Syria without providing a basis for its charge, it risks bolstering the Kremlin's narrative that Russia is held to unfair double standards by hostile and hypocritical western powers."
Russia and the UK have a shared interest in combating Islamic terrorism, the report says.
"The government… should be having a regular dialogue with their Russian counterparts about the causes of Islamic extremist violence and the potential strategies to address it," the committee wrote.

"That dialogue should be used to improve relations, better understand Russian foreign policy and initiate discussion on freedom of expression, the rule of law and human rights, and the ongoing issues in Crimea and eastern Ukraine."
World Cup 2018
"Serious continuing consideration" should be given to Russia hosting the FIFA World Cup in 2018, because of "Russia's questionable record in relation to human rights, the rule of law and state-sponsored doping," the committee claims.
It is probable that at least one out of England, Northern Ireland, Scotland or Wales will qualify for the tournament, meaning thousands of UK nationals are likely to visit Russia in the summer of 2018.
"We note that when England played Russia in Marseilles at the European Championships 2016, Russian fans fought running battles with England supporters," the report says.
The committee calls on British police and their Russian counterparts to minimize the possibility that "serious trouble occurs again."
Whether British ministers and VIPs attend the event on the basis of Russia's "commitment to fair sporting competition" should also be reviewed, the report says.
You can share this story on social media: