London gallery under fire for hosting 'neo-Nazi' art & 'Islamophobic' speakers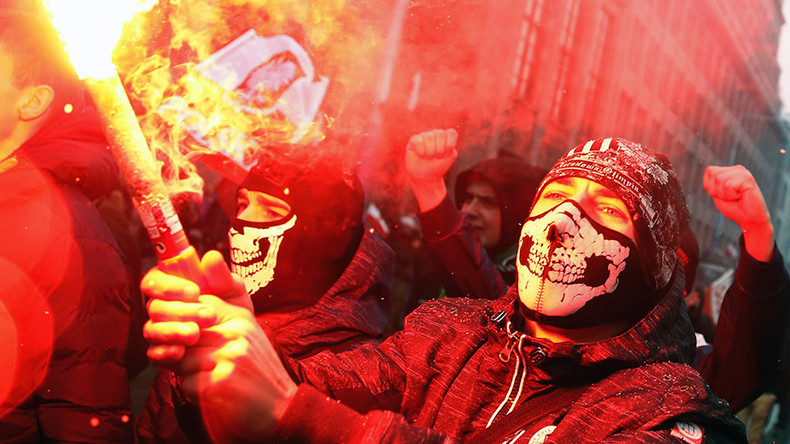 A London art gallery has been criticized for exhibiting neo-Nazi artwork, hosting openly Islamophobic speakers and "promoting fascism."
LD50, in Dalston, east London, is facing calls to shut down over an exhibition and a series of talks hosted by the far right or so-called 'alt-right' movement, which is known for its vehement anti-liberal stance, often favoring white supremacist views.
Last summer, the gallery, run by Lucia Diego, held a 'neoreaction conference' featuring speakers including Peter Brimelow, Brett Stevens and Iben Thranholm. 'Neoreaction' is a 'philosophy' which rejects democracy, is anti-egalitarian and embraces autocratic rule.
Brimelow is known as an anti-immigration activist, and is president of the VDARE Foundation, a white nationalist organization based in the US and described by the Southern Poverty Law Center as "an anti-immigration hate website" that "regularly publishes articles by prominent white nationalists, race scientists and anti-Semites."
Stevens edits a far-right website. His work was an inspiration for Oslo far-right mass murderer Anders Breivik, who killed 77 people in 2011.
After Breivik's attack, Stevens wrote: "I am honored to be so mentioned by someone who is clearly far braver than I, no comment on his methods, but he chose to act where many of us write, think and dream," according to the Guardian.
Iben Thranholm is a Danish journalist who rallies against immigration, and says that European men are too feminine and can't defend their women from 'rapefugees.'
LD50 also ran an exhibition, titled 'Amerika,' that included a cardboard cutout of US President Donald Trump and Pepe memes. Pepe the Frog is an online cartoon character that has been branded a hate symbol after racists depicted him as Adolf Hitler and a member of the Ku Klux Klan.
The show prompted artists and activists to start the campaign 'Shut Down LD50.' They say the gallery is "using the cover of the contemporary art scene and academia to legitimize the spread of materials [that have drawn on fascist traditions] and the establishment of a culture of hatred."
The gallery is "responsible for one of the most extensive neo-Nazi cultural programs to appear in London in the last decade," campaigners say.
In a statement on its website, LD50 defended its program.
Organizers said they have found themselves in recent months "increasingly interested in the political ruptures in the West: America and closely observed events there throughout the extraordinary and dramatic election cycle."
The gallery says it presented "a very liberal audience" with a speaker who was knowledgeable in "alt-right and NRx [neoreactionary] discourses" to create "a dialogue between two different and contrasting ideologies."
It says the cultural sphere has become the preserve of the left and anyone who opposes this political viewpoint is "now publicly vilified, delegimigated and intimated with menaces."
The gallery maintains that "the role of art is to provide a vehicle for the free exploration of ideas, even and perhaps especially where these are challenging, controversial or indeed distasteful."
It adds: "Art should have exemplified this willingness to discuss new ideas, but it has just become apparent to us that this sphere now (and perhaps for the last few years) stands precisely for the opposite of this."