Britain must 'accept responsibility' for refugee children in France, says Hollande
Published time: 22 Feb, 2017 12:48
Edited time: 23 Feb, 2017 12:48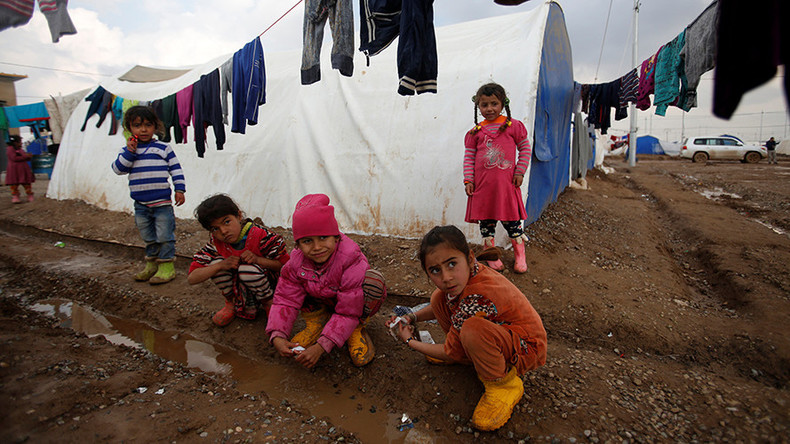 French President Francois Hollande has attacked British Prime Minister Theresa May for refusing to accept 3,000 unaccompanied child refugees stranded in France who already have family in the UK.
Hollande called on Britain to fulfil its promise to take in minors with links to Britain after the UK decided to limit the number to just 350.
His intervention comes as a group of young refugees resettled in Britain penned an open letter to the government urging it not to drop the Dubs Amendment.
The Amendment, which committed the government to accepting 3,000 under-age refugees, was created by Lord Dubs, who was himself among 669 Jewish children who fled the Nazis in 1939 and was granted asylum in the UK.
"France is playing its part in the European effort. We expect that our partners do the same, particularly when we are talking about minors on their own," Hollande stressed.
"I call on the United Kingdom to accept its responsibility for teenagers in France at the moment who have family on the other side of the Channel," he said.
Many of the refugee children stranded in France are living in temporary shelters, such as the French government's official camp at Dunkirk, or on the streets of Paris. Many are still making their way across Europe to Calais in the hope of reaching the UK.
In an open letter drafted by the British Red Cross, 17 young refugees from Syria, Iraq, Iran, and Afghanistan describe themselves as "the lucky ones" after being settled in the UK.
One refugee, who is now 18 years old, said: "They should make it easier for children to come safely to the UK. I saw so many people die, this is a deadly journey."
Downing Street has rejected Hollande's criticism.
"We have done a huge amount of work in accepting asylum seekers and vulnerable children from France and that work continues, as it does in Europe and other parts of the world," the PM's spokeswoman said.
"In the past year alone we've taken 8,000 children. So, I don't accept the suggestion we are not doing enough work."