Nigel Farage calls Swedish city 'rape capital of Europe' in show of solidarity with Trump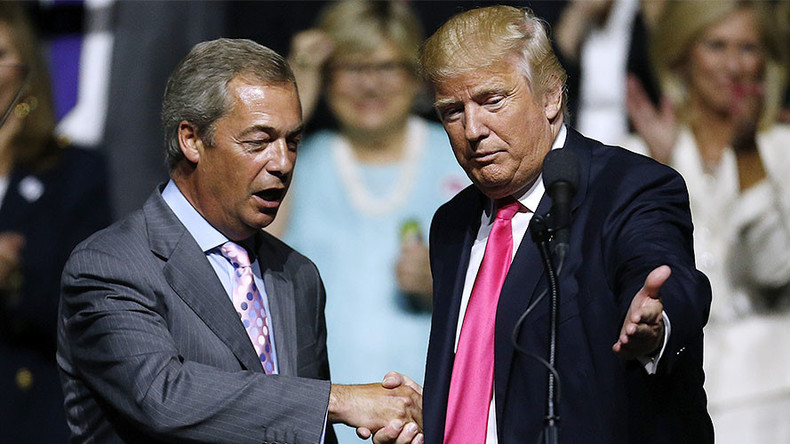 Ex-UKIP leader Nigel Farage has backed recent criticism by US President Donald Trump of Sweden's liberal immigration policy by calling the city of Malmo the "rape capital of Europe."
Speaking on his own LBC radio show on Monday night, Farage claimed Malmo had the highest rate of rape in Europe because of its liberal stance toward immigrants.
"Malmo in Sweden is the rape capital of Europe due to EU migrant policies," Farage said.
"Anyone who says there isn't a problem is lying to you."
His comments come after Trump implied at a campaign rally in Florida on Saturday that Sweden had been subject to a terror-related attack on Friday night.
While criticizing opposition to his travel ban on immigrants from seven-Muslim majority countries, as well as Europe's open-door approach to immigrants, Trump said: "We've got to keep our country safe. You look at what's happening in Germany, you look at what's happening last night in Sweden."
Trump later claimed he was referring to a story he had seen on Fox News about a new documentary by Ami Horowitz on "immigrants and Sweden."
My statement as to what's happening in Sweden was in reference to a story that was broadcast on @FoxNews concerning immigrants & Sweden.

— Donald J. Trump (@realDonaldTrump) February 19, 2017
Farage backed Trump's claims, arguing: "Pro-rata, Sweden has taken more young male migrants than any other country in the European Union.
"And there has been a dramatic rise in sexual crime in Sweden – so much so that Malmo is now the rape capital of Europe, and some argue, perhaps the rape capital of the world.
"And there is a Swedish media that frankly just doesn't report it."
However, compelling evidence has already been gathered, discrediting the claim.
According to a graph by University of Maryland sociologist Philip N Cohen, rape figures in Sweden started to drastically increase in 2004, seven years before the migrant crisis began in 2011.
Data from the United Nations Office on Drugs and Crime (UNODC) shows that Sweden is by far the country with the highest level of rape with 66.5 allegations reported to police per 100,000 in 2012.
This compares to Indonesia, which has the least amount of reported rape crimes at 0.7 per 100,000.
But Cohen points out that a possible reason for the apparent rise may be Sweden's introduction of a far more wide-ranging definition of rape in 2005.
Farage told his fellow MEPs in the European Parliament last week they should "fear" their own voters, as he said that "only 20 percent" of the electorate of 10 major EU states are against restrictions on Muslim immigration.
He was referring to a poll by Chatham House, which showed 55 percent want a halt on Muslims migrating to the bloc.
"Only 20 percent of people want immigration from Muslim countries to continue," Farage said. "Which means your voters have a harder line position on this than Donald Trump or myself or frankly any party sitting in this parliament."