'EU voters are more anti-immigration than I am,' Farage rants at MEPs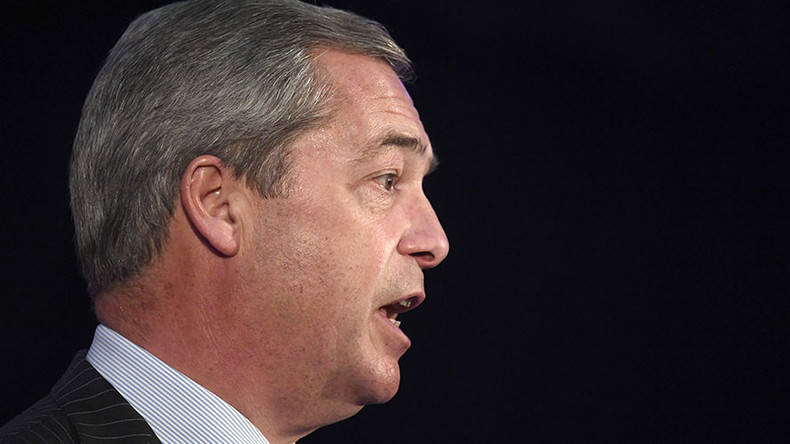 Former UKIP leader Nigel Farage has accused Eurocrats of "despising" their own voters, who he says mostly want migration from Muslim countries to stop.
In a fiery speech to the European Parliament in Strasbourg, Farage said most EU citizens have a "harder line" on immigration than himself or even US President Donald Trump.
Farage pointed to a recent poll of 10,000 people by think tank Chatham House, which revealed that across 10 major EU states 55 percent of voters thought Muslim migration should be stopped. About 25 percent neither agreed nor disagreed, and 20 percent disagreed.
"I have no doubt that many of you here when you hear what I have to say will despise your own voters.
"Only 20 percent of people want immigration from Muslim countries to continue. Which means your voters have a harder line position on this than Donald Trump or myself or frankly any party sitting in this parliament.
"I simply cannot believe that you are blind to the fact that even Mrs Merkel has made a U-turn and now wants to send people back," Farage said, referring to the German chancellor.
The poll results show many Europeans agree with a travel ban from mainly-Muslim countries, including 71 percent of Poles, 65 percent of Austrians, 51 percent of Italians as well as 47 percent in the UK and 41 percent in Spain.
Across the board, elderly and less educated people from rural areas were more likely to agree.
Speaking to MEPs, Farage said they were in denial over the rise of populism and "can't face up to the fact that this bandwagon is going to roll across Europe in 2017."
He said MEPs overlook the "miseries" that have been inflicted on Greece by the euro, unemployment across Europe caused by bad regulation, and "the feeling that none of us are safe in our cities because of the disastrous common asylum policy."
"The people want less Europe and we see this again and again when people have referendums and they reject aspects of EU membership.
"The EU has no future at all in its current form and I suspect you're in for as big a shock in 2017 as you were in 2016."
You can share this story on social media: