Kill with kindness? Helping military veterans risks creating 'culture of entitlement,' report says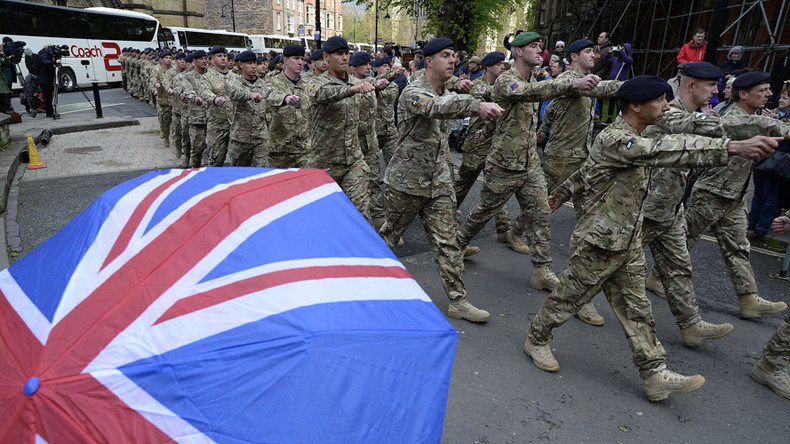 The proliferation of military charities in the UK risks creating a culture of 'entitlement' in armed forces veterans, one such charity has warned.
The Care After Combat initiative, which is fronted by comedian Jim Davidson, has released a report detailing its efforts to support veterans who have fallen on hard times.
Commenting in the report's foreword, Davidson said: "There are so many charities and I'm just worried that the veteran will sit on his backside and say 'OK, come and sort me out,' which is not what we want."
Davidson insisted his charity wants ex-servicemen and women "to get a life back and not just sit there and say 'gimme, gimme, gimme.' Not that they do that, but there is a danger of that happening.
"You can get a house, you can get a job, you can get clothes, you can sort your mental health out, your drink problem, you can go and stroke a horse if you want. But that's not what we want. We want to get people back into society and working.
"If we are not careful we can create an environment where we do everything for the veteran, we are going to kill him with kindness if we are not careful," Davidson warned.
While the report mainly focuses on the charity's Phoenix project for veterans in jail, Davidson also warned that small sections of the ex-forces community are using post-traumatic stress as a "badge of honor" and a "pass to gain benefits and entitlement."
"In doing so, those with a valid and true diagnosis feel reluctant to seek help fearing they may not be able to access the help they require."
Military charities in the UK now number in the hundreds. The largest and most prominent of these are the Royal British Legion, Help for Heroes and Combat Stress.
You can share this story on social media: