Streets fit for heroes? RT meets the charities helping Britain's homeless veterans (VIDEO)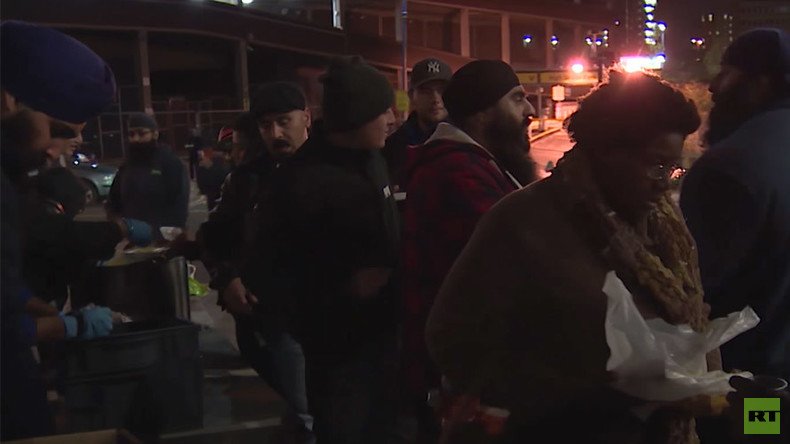 RT takes a closer look at the soup kitchens supporting homeless military veterans forced to sleep rough on the streets of Britain.
Brixton Soup Kitchen founder Solomon Smith told RT's Richard Sudan he doesn't understand how men and women who served in the armed forces can be left to sleep on the street.
"What I don't understand is, you've served for the country," he tells Sudan.
"I play a lot of [computer game] Call of Duty. When I play Call of Duty by myself, I'm scared. So I'm trying to say, if you've really done that, and then you're coming out of the army to come to a soup kitchen. It doesn't fathom up in my mind."
Justin, of Homeless Reach, has worked with a veteran of the Falklands War who has been homeless for 14 years.
"It's crazy because he came back and he was given a home, but just because he never got the support he needed, the mental support. He saw a lot of traumatic things, and like he hasn't been able to get the support he needed for a long time."
As many as 9,000 former military personnel could be homeless, according to research by the Sunday Mirror in 2013. That's one in 10 homeless people in the country.
Research in 2012 for a Community Self Build Agency housing pilot found one in four rough sleepers in London has been in the armed forces.
"People come back and they're just left destitute. They've got post-traumatic stress disorder," said Black Revolutionaries member Arnie.
"These are working class people that are going off to fight for their country, that's what they believe, and come back to a place devastated, with no jobs, no homes, nothing."
Government figures show the number of people sleeping rough has doubled since 2010, with an estimated 3,569 on the streets as of 2015.
You can share this story on social media: