'Failed' investigation into Iraq War abuse claims will close within months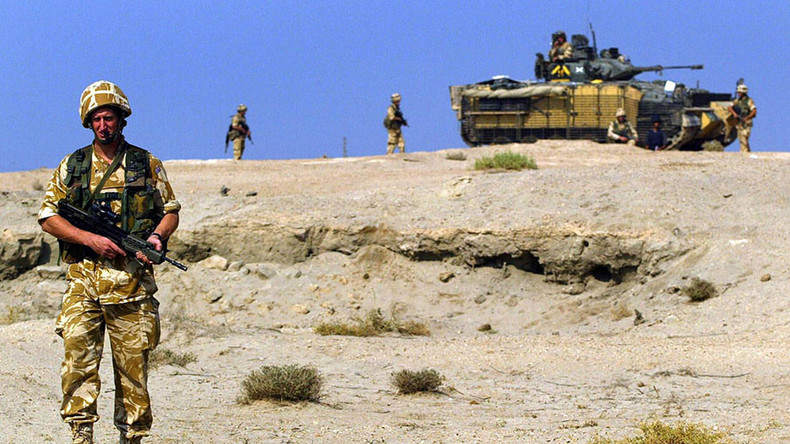 UK Defense Secretary Michael Fallon has said the civilian-run investigation into allegations of abuse and torture by British troops in Iraq will be shut down within months. MPs have called for it be replaced by a military-led probe.
Fallon announced the closure of the Iraq Historic Allegations Team (IHAT) after a damning report by MPs was published on Friday.
The defense secretary also confirmed around 90 percent of misconduct cases involving British troops who served in Afghanistan will be dropped, according to Sky News.
In its report, the Commons Defence Committee said IHAT has "directly harmed the defense of our nation" by investigating abuse claims, including the death of an Iraqi teenager 13 years ago.
MPs described the £60 million (US$75 million) government probe into allegations against Iraq War veterans as an "unmitigated failure" and said it should shut down within months.
The government is expected to carry out the committee's recommendations.
The Defence Committee said in a report that IHAT has become a "seemingly unstoppable self-perpetuating machine" which has "proved to be deaf to the concerns of the Armed Forces, blind to their needs, and profligate with its own resources."
Committee chairman Johnny Mercer, a former soldier turned Tory MP, has been a leading critic of investigations into potential war crimes.
In an annex to the report, the committee recommends that in future "all historic investigations must be carried out by members of the service police, with support from civilian police."
This means any further probes into war crimes could be led by military personnel, with only support from civilian authorities.
"I am clear where the problems lie," Mercer told the Sun earlier this week.
"There is a rotten core of civil servants who made decisions without ministers or military input," he said.
Last week, Phil Shiner, a lawyer and professor, was struck off the solicitors register after admitting to numerous counts of misconduct during his investigations into alleged crimes by soldiers.
The only conviction to have emerged from IHAT so far is that of one of its own investigators, a retired police officer who tried to use an expired police warrant card to access a UK military facility in 2011, but was refused entry at the gate, according to documents seen by the Telegraph.
"The Ministry of Defence Police (MDP) were contacted and he was suspended from IHAT duty either the same day or the day after. He was subsequently charged by the MDP and convicted at a Magistrates' Court," the records claim.
You can share this story on social media: