'Stop Trump': Celebrities lead campaign to block state visit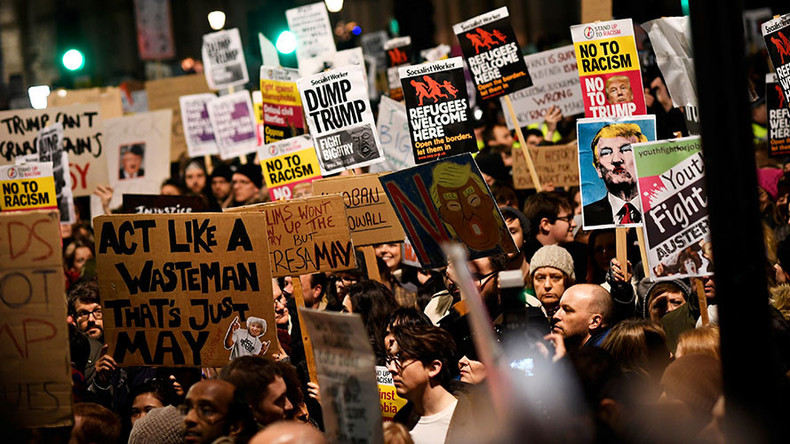 British campaigners including musicians, comedians, politicians and trade unionists have joined forces to oppose Prime Minister Theresa May's plan to welcome US President Donald Trump with a formal state visit.
In a letter published in the Guardian on Thursday, 90 public figures came out against Trump's "dangerous and divisive" politics and "the attempt of the British government to normalize Trump's agenda."
Among the list of signatories of 'Stop Trump' are pop stars Lily Allen and Paloma Faith, model turned philanthropist Bianca Jagger, writer Caitlin Moran, comedians Omid Djalili and Frankie Boyle, as well as leaders past and present of the Labour Party, the Liberal Democrats, Plaid Cymru and the Green Party.
"Donald Trump's presidency is turning out to be every bit as dangerous and divisive as we feared," reads the letter, addressed to Theresa May.
"The rhetoric of his campaign, and his early executive orders, have sparked a wave of fear and hatred. Those who are often already marginalized and discriminated against – particularly Muslims – have been particular targets for Trump.
"Trump directly threatens steps towards tackling climate change, fighting discrimination, inequality, peace and disarmament. At the very moment when the world needs more solidarity, more cooperation, and a greater commitment to justice, he proposes to build walls and wants to turn us against each other."
Organizers behind the February 20 London demonstration hope the big celebrity names will encourage others to join. They estimate up to a million people could attend.
"People in Britain never voted for this. It is our duty as citizens to speak out. We oppose this state visit to the UK and commit ourselves to one of the biggest demonstrations in British history, to make very clear to our government, and to the world, this is not in our name," the letter adds.
The founding of the Stop Trump Coalition comes after almost 2 million people signed a petition against the US president's UK visit, following his decision to ban travelers from seven majority-Muslim countries for 90 days.
On Monday, an estimated 30,000 people descended on Downing Street to protest against May's apparent fawning over Trump during her first visit to Washington last weekend.
"Challenging Trump and the ideas that support him has never been so critical," Labour frontbencher and fellow signatory Clive Lewis MP told the Guardian.
"As such protests are a small but important part in making the political space for our progressive ideas to be heard."
You can share this story on social media: