Guerilla ads protesting mass deportations invade London tube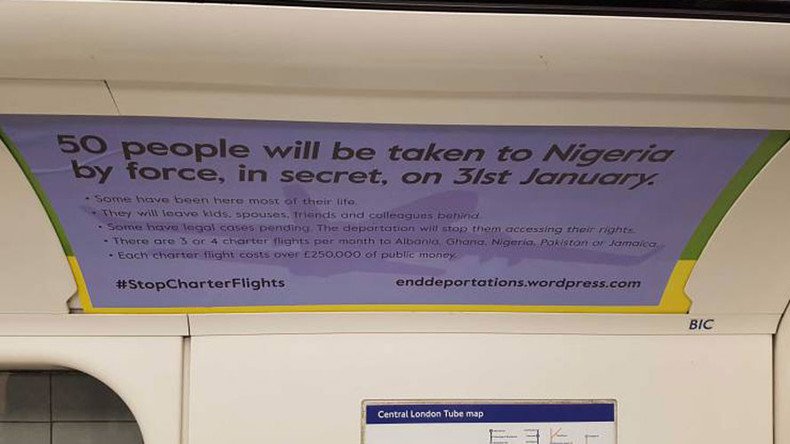 On Wednesday morning, London's metro system was taken over by guerrilla advertisements that are part of a campaign to draw attention to mass deportations being carried out by the British government.
Hundreds of displays were covered by End Deportations mock ads as part of a two-week international action against charter flight removals.
Private planes usually deport 60 to 80 people at a time on flights scheduled twice each month bound for Nigeria and Ghana. The Home Office has nicknamed the process Operation Majestic.
Deportees will usually consist of people whose asylum claims have been rejected, including some who may have spent most of their lives in Britain but do not have British citizenship.
It is estimated that each charter flight costs the British taxpayer £250,000.
"It really reminds us of the history you read about slaves," one of the two mock posters reads. "When they used to take people and put them in the ships, to take them and go and sell them. Now, they are doing this here. Yarl's Wood [detention center] is a slave ship."
The quote, which is attributed to an anonymous deportee who boarded a charter flight in May of 2016, adds: "They take you from here and put you on a charter flight. When you look in Yarl's Wood there is no white person in here, we are all Indian, Chinese and African. It is racism. I have been in England 20 years, I paid my taxes, paid my [National Insurance].
"My back is hurt from lifting older people, working with disabled children. I worked with all my heart."
Campaigners point out that the deported often have partners, children, and jobs in Britain, and many even have ongoing asylum claims that are yet to be completed.
Once overseas, deported citizens lose access to their British legal rights. Some asylum seekers' lives are put in danger upon deportation, particularly LGBT people and human rights campaigners, or those who have no family remaining in their home countries.
"We demand no more deportations, an end to charter flights and the racist detention system, that imprisons people indefinitely," said Cathy, an End Deportations campaigner.
Other frequent destinations for chartered deportation flights include Albania, Pakistan, and Jamaica.
In 2009, David Wood, who was then enforcement director of the UK Border Agency, told the Telegraph that charter flights have become the preferred form of deportation because deportees had been delaying the process by making a "big enough fuss at the airport."
"We found that pilots would then refuse to take the person on the grounds that other passengers would object. So although we still use scheduled flights, we use special flights for individuals who are difficult to remove and might cause trouble," he added.
Campaigners say it is "unclear" whether charter flight deportations are illegal under international law, while noting that challenging them has become more and more difficult due to the Conservative government's cuts to legal aid.
You can share this story on social media: