'Shut down Yarl's Wood!' Protesters 'kick down walls' of detention center for deportees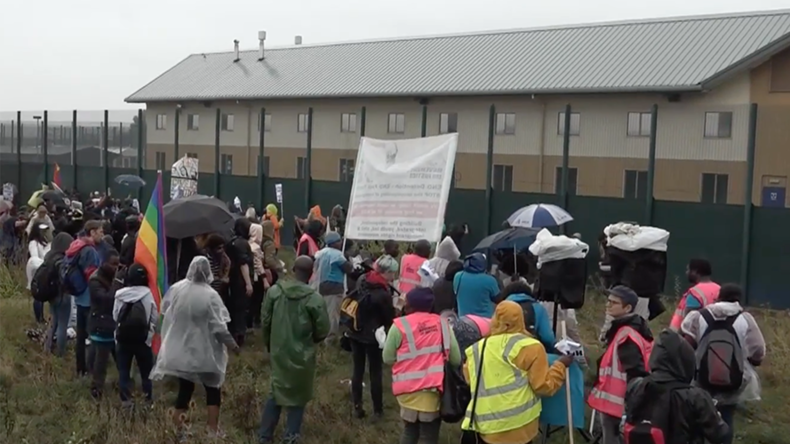 Hundreds of demonstrators descended down on the Yarl's Wood Immigration Removal Centre, where about 400 predominantly female migrants await their deportation from the UK. The center was labeled a place of 'national concern' by a prison watchdog last year.
An alliance of several diverse pro-migrant groups gathered outside the walls, holding banners saying "no sister is illegal,""no borders," and "f**k Serco," in a reference to the private contractor that operates Yarl's Wood.
Protesters, some of whom included previous residents at the secure facility, also launched symbolic smoke grenades, while several banged pots and pans on the chainlink fences, before forming a line and kicking down the walls.
"These people haven't committed any crimes," one protester told Ruptly, RT's sister video agency, pointing at the height of the fences. "Treating them like this is inhuman."

The activist group Detained Voices reported that residents were ordered to their cells for the duration of the demonstration.

The group said that in the wake of the protest some of the women inside the sprawling campus went on hunger strike.
One of UK's 13 deportation centers, Yarl's Wood has been beset by controversy since its opening in 2001. Once Europe's largest migrant holding center, it was decimated by a fire following a riot within months of receiving its first residents.
Numerous inspections have accused the contractors of operating an unsafe and under-staffed facility, including HM Inspectorate of Prisons (HMIP) last year, which noted that conditions had deteriorated "severely" in the past two years, and expressed particular alarm at the scores of pregnant women kept on-site.
Six allegations of abuse were made against the staff at Yarl's Wood between 2013 and 2015, though none resulted in official prosecutions.
A Serco-commissioned investigation at the end of last year found deficiencies in the running of the center – which the company has vowed to rectify – but "no endemic culture of abuse."
You can share this story on social media: