Britain preparing 'official' anti-Moscow campaign – Russian embassy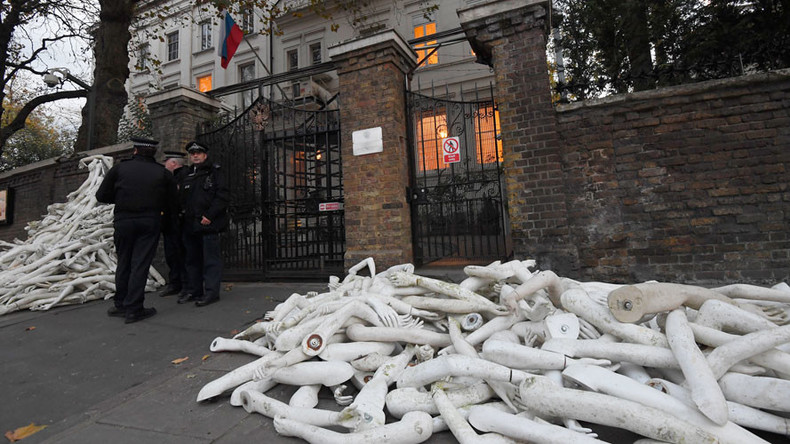 The Russian embassy in London says that the British authorities are looking to launch an official campaign against Moscow, based on what senior diplomats in Britain reportedly called a "concerted drive by Russia to undermine the UK."
The embassy posted a statement on its website apparently meant as a follow-up to an article published by the Sunday Times in mid-December. The newspaper reported Whitehall's growing concerns over Russia, including a perceived cyber threat, an alleged increase in spying, and the deployment of "useful" MPs and "propaganda."
"Moscow is behind a concerted drive to undermine the UK through espionage, misinformation, cyberattacks and fake news, senior Whitehall figures believe," the Sunday Times wrote. It added that Prime Minister Theresa May was soon to chair a National Security Council session "to examine Russian actions towards Britain and its allies and discuss possible responses."
In its response, the Russian embassy voiced fears that the UK will attempt to use its influence to brief the incoming administration in the US against Moscow.
"Judging by media reports… the British authorities are planning to emulate the Obama Administration and launch an official campaign to counter presumed 'concerted drive by Russia to undermine the UK'… HMG [Her Majesty's Government] is also widely suspected of and expected to brief the incoming US Administration against Russia," the statement reads.
READ MORE: 'Mannequin limb' protest: Russian ambassador concerned by UK's unwillingness to protect embassy
The diplomats connected the potential campaign with Russia's efforts in Syria, which included a humanitarian evacuation from eastern Aleppo and the recent adoption of the UN Security Council resolution on Syria. They also listed last year's EU summit as the probable preamble to the "witch hunt," saying that the campaign could attempt to roll back the June vote by playing on the Russian "threat."
"It seems that the Western elites will go to great lengths to save their own world with its Washington consensus, Davos and austerity, even if it does no longer benefit anybody else… This panic and hysterics is a response to the overall loss of control, which brought about war a hundred years ago. It is also a loss of control over the public debate, exercised by way of the Orwellian newspeak of political correctness," the embassy statement says.
The embassy adds that even high-ranking intelligence officials in the UK know that Russia can hardly be blamed for the tarnished reputation of the US across the world.
"Sir Richard [Dearlove], as former MI6 Director, knows as nobody else, that for example, most of the damage to America and its place in the world was done by the George W.Bush Administration. No foreign agents could have accomplished that much.
"The same is true for former British Governments, although in a less spectacular fashion and on a smaller scale, mostly through inaction," the statement adds.
The news comes a day after British Foreign Secretary Boris Johnson told MPs that it was "pretty clear" that the US hacking attack could be traced to Moscow.
READ MORE: Activists rally outside British Embassy in Moscow to support Russia's diplomats (VIDEO, PHOTOS)
According to Johnson, he told the incoming US administration, "We do think the Russian state – the Putin Kremlin – is up to all sorts of very dirty tricks, but it would be folly further to demonize Russia or to push Russia into a corner."
On Tuesday, Democratic members of the US Congress called to create a 9/11-style commission to look into the alleged Russian hacking, while also urging "comprehensive" sanctions. A day earlier, the US blacklisted several senior Russian officials and entities. The step followed last month's expulsion of 35 Russian diplomats and the shutdown of two Russian compounds, in New York and Maryland.
You can share this story on social media: