'Mannequin limb' protest: Russian ambassador concerned by UK's unwillingness to protect embassy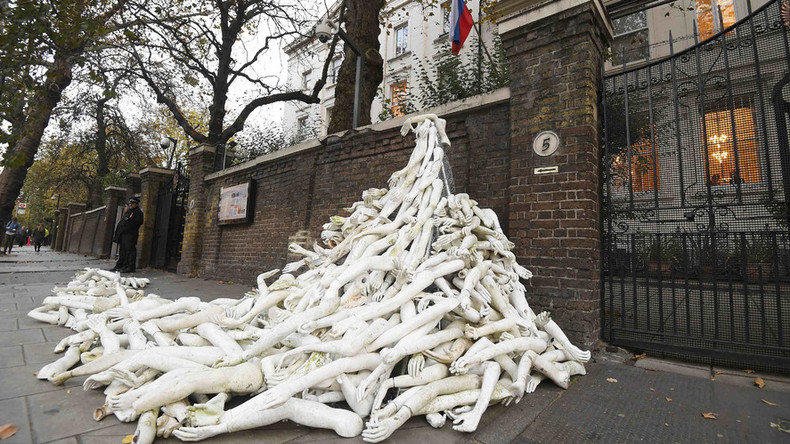 The unwillingness of UK authorities to provide security for Russia's embassy raises concerns, as the unhampered 'mannequin limb' protest rendered the mission dysfunctional, Russian ambassador to the UK Aleksandr Yakovenko told RT.
Earlier on Friday, campaigners dumped around 800 mannequin limbs outside the Russian embassy in London in protest Moscow's military involvement in Syria.
"We're concerned with the unwillingness of the British authorities to provide the proper protection of the embassy," Yakovenko told RT.
"The physical security of the embassy was compromised" because the "protestors were allowed physically close to the entrance by the British authorities," he stressed.
According to the ambassador, the actions of the protestors weren't as harmless as they might seem at first glance.
"The entrance was blocked, so the visitors, the diplomatic staff, they just couldn't come and go out of the embassy," he explained.
At the same time, "the telephone lines of the embassy were blocked by so-called false calls," Yakovenko added.
"Basically, the embassy couldn't function" because of the demonstration, the diplomat stressed.
The way Friday's protest was executed indicates that it had been planned ahead of time, the Russian ambassador said.
"We understand that you can't do this with just one or two – or even a hundred people. You need thousands of them. And that's exactly what we're afraid of," he explained.
Yakovenko blamed the UK authorities for not only being reluctant to protect the Russian mission, but also for provoking demonstrations in front of the embassy.
"We are facing an intensive anti-Russian campaign from the media, and there has been a call from a British minister to physically block the embassy, which is totally unacceptable for us," he said.
READ MORE: Yakovenko on 5 things everyone needs to know about Russia's position on Syria
UK Foreign Secretary Boris Johnson recently appeared in Parliament and said: "I'd certainly like to see demonstrations outside the Russian embassy… Where's the Stop the War Coalition?"
In a later comment on Twitter, Yakovenko stressed that there was nothing wrong with protesting, but stressed that "disrupting the work of diplomatic mission is violation of international law."



Thanks for all who wrote in our support. You are right - protesting is OK, but disrupting the work of dipl.mission is violation of intl. law pic.twitter.com/buQ71WEq7W

— Alexander Yakovenko (@Amb_Yakovenko) 4 ноября 2016 г.
Russia's embassy in London has also sent a letter of complaint to the UK Foreign Office, stressing that "the police officers remained indifferent in the face of the openly provocative and disorderly conduct of the 'demonstrators.'"
WATCH MORE:
You can share this story on social media: