'All for one & one for all!': Brawling Queen's Guards sentenced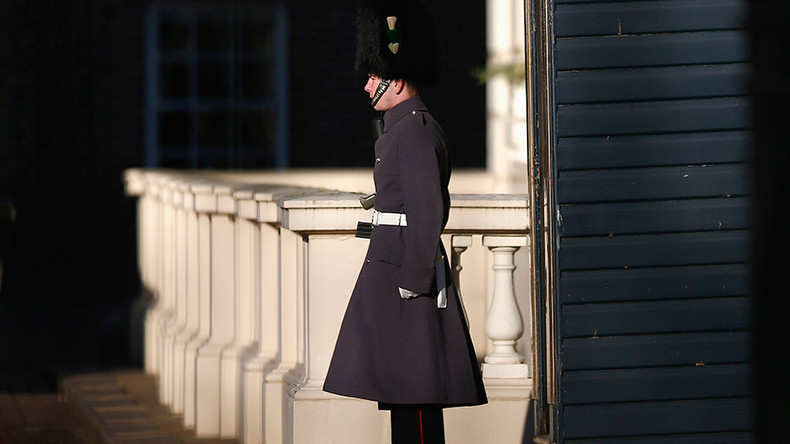 Three young guardsmen from one of the UK's most exclusive army regiments have been sentenced for drunkenly beating and racially abusing cops after a £4,500 trip to a strip club using a colleague's bank card.
The incidents in question occurred in August when the three young soldiers went on a drunken binge after sneaking out of Wellington barracks with a comrade's debit card and pin number.
They were eventually confronted by police at Zoo Bar in London's Leicester Square, at which point they fought with two officers before finally being arrested.
Guardsman Thomas McLaughlin, 21, racially abused PC Owura Kodua as Guardsman Oliver White put him in a chokehold. Guardsman Paul Holland was also involved in the fracas.
The trio had been ejected from the club for abusing American tourists by drunkenly shouting about how bad a fighting force the US Army was.
The three had also by that stage run up a huge bill on champagne and exotic dancers in a local strip club using their friend's borrowed card.
Kodua's police partner, PC Paul Fletcher, said that after he tried to convince the soldiers to leave the club, McLaughlin "continued to call me a c**t and said he would take me down if I tried to do anything, he then said he would destroy me.
"He said that I was a skinny white c**t, said he would 'drop me' and spat at me." After the tussle and as he was being arrested McLaughlin called Kodua a "black c**t."
Westminster Magistrate's Court heard that Holland also shouted: "All for one and one for all" as he was cuffed.
In a statement to the court, Kodua said: "I've been assaulted during my seven years as a police officer, but this incident was the worst and the most frightening."
He said he was sure that he could have suffered serious injury from the chokehold.
Fletcher said: "This is making me think extremely hard about patrolling Leicester Square - I've never been targeted with such conviction as Mr McLaughlin showed.
"No one should be subjected to this sort of behavior regardless of their skin color or nationality."
McLaughlin has since left the military but the other two have soldiered on. The trio were given a range of fines and ordered to carry out community service but all avoided custodial sentences.
The men's commanding officer, who was unnamed in the proceedings, said: "I commanded all three. They guarded the palace, they did what you would expect them to do. They all had exemplary records."
The Guard regiments are currently facing a severe recruiting crisis so the fact that the men were not ejected from the military is likely to be well received.
Ministry of Defence figures from November indicate that the Scots Guards can only muster 260 guardsmen – the equivalent to privates – for operations.
The Irish and Welsh Guards, meanwhile, can only muster 230. This is despite the operational manning requirement for an infantry battalion being between 330 and 410.