Queen's elite Guards regiments are badly short of soldiers – MoD figures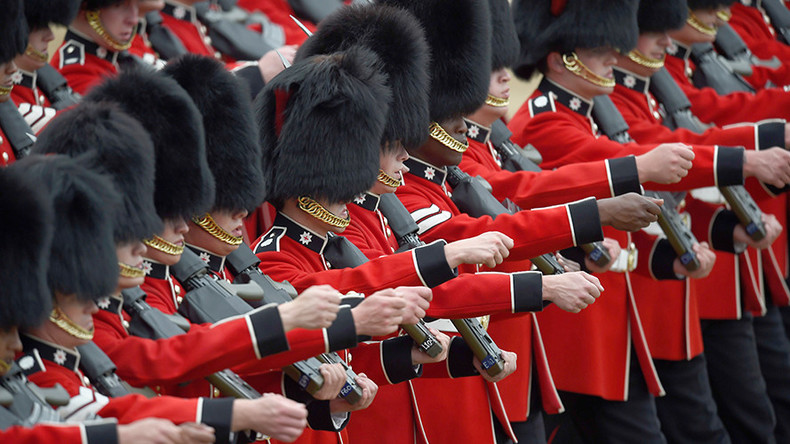 Manpower in some of Britain's elite Guards regiments, which protect Buckingham Palace, has fallen so dramatically that only a few hundred junior infantrymen can be mustered by some battalions, figures indicate.
The five famous infantry regiments – composed of the Grenadier, Coldstream, Scots, Irish and Welsh Guards – are best known for their iconic redcoats and bearskin hats. However, a crisis of manpower could see them disbanded.
According to Ministry of Defence (MoD) figures seen by the Express, the Scots Guards can only muster 260 Guardsmen – the equivalent to privates – for operations.
The Irish and Welsh Guards, meanwhile, can only muster 230. This is despite the operational manning requirement for an infantry battalion being between 330 and 410.
One senior officer with the Household Division – of which the Guards and Household Cavalry are a part – told the Express that pressure was being applied to ensure the units were not folded into each other or disbanded.
"It has been made very clear within the Palace and the Household division that the five regiments of Foot Guards must not be removed from the line," he said.
"The directive comes with Royal endorsement and as such puts the Guards above any sanction or future plans to disband them."
Military units compete with each other for recruits, with the Royal Irish Regiment apparently attracting the lion's share of recruits from Northern Ireland at the expense of the Irish Guards.
"The downward trajectory in numbers is evident, and it's a challenging problem," another defense source told the paper.
"It's exacerbated, at junior rank level, by a perceived rejection of Guards regiments seemingly on devolution grounds, in favor of alternatives such as the Royal Irish regiment which, of course, does not have the same special relationship with the Queen."
The news comes amid a row over the cost of restoration work at Buckingham Palace – which the Guards protect alongside their rotating combat role.
Some, including Labour's staunchly-republican Shadow Chancellor John McDonnell, say the money must be found to restore the buildings. However, some 100,000 petitioners have rejected the idea of making taxpayers and the Crown Estate meet the estimated £369 million (US$460,000) cost.
Rejecting the plan, the 38 Degrees petition says, "There is a national housing crisis, the NHS [National Health Service] is in crisis, austerity is forcing cuts in many front line services. Now the Royals expect us to dig deeper to refurbish Buckingham Palace."
You can share this story on social media: