Priests, teachers, coaches: Children's home sex abuse survivors publish harrowing report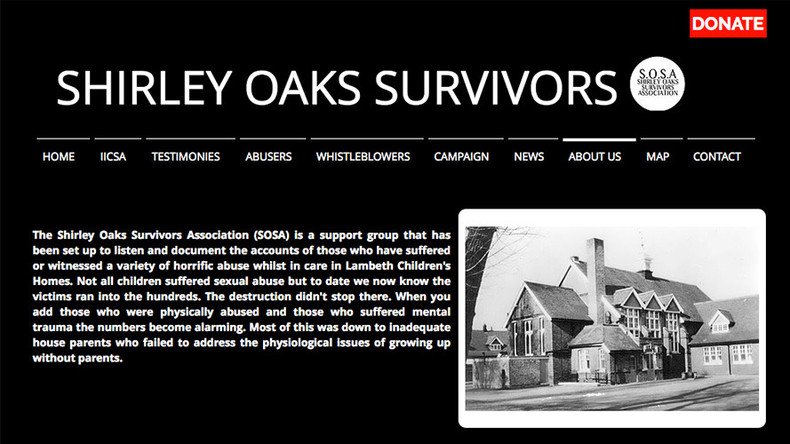 More details are emerging on the alleged sexual abuse of dozens of children at a care home in London, as survivors publish their own 129-page report after losing faith in the official inquiry.
According to Shirley Oaks Survivors Association's (SOSA) own investigation, two men dressed as Father Christmas abused children at the Croydon facility, just one in a horrifying list of crimes that date as far back as the 1960s. The report was compiled by former residents who lost hope in the controversial Independent Inquiry into Child Sexual Abuse following the resignations of its two first chairs and prestigious panel members.
Some of the survivors described the harrowing experience at the children's home, including alleged sexual abuse and beatings. Paul Annon, who was put into care with his brothers after their mother died, was only five or six years old when his abuse at Shirley Oaks started.
"A big man used to come into the room and sexually abuse me, and a woman would come in, but not at the same time – a couple of nights the man and then a couple of nights the woman," Annon said.
"Then a few nights there would be nothing and you would get some sleep and then you would be woken up by your covers being taken off and – I won't go into details.
"It was hard, it was really hard."
The 51-year-old also said the abuse was on an "industrial scale" and the decade he lived at the home – 1969 to 1979 – traumatized him for life.
"Even now, today, I find it hard to sleep. I lie in bed sometimes and think 'how could people do things like that?'" he continued. "I don't remember many names, you don't when you are five or six. It is only when I got a little bit older you know people and you remember things.
"I didn't really understand it at the time and I couldn't really talk to my brothers – I thought it was me, something that was happening to me. You blame yourself like it is your fault."
Annon added that every time he attempted to warn people about the ongoing abuse, "it would fall on deaf ears."
@ShirleyOaksSA Amazingly moving, I hope your courage brings forth justice for the past, change in the present and hope for the future #CSA

— Donna Peach (@Donna_Peach) December 15, 2016
One of the founders of SOSA, Raymond Stevenson, said the report, which collected testimonies from 400 former residents, was "just the beginning" of a long campaign for truth and justice. Around 60 people have been identified as alleged abusers, including council employees, priests, teachers, doctors, swimming instructors, football coaches, caregivers, and volunteers.
"Our story will never be buried again," he said at an event on Thursday. "I spent a lifetime thinking the abuse that happened to me was in isolation, but I now know it didn't compare in any way to what happened to the people represented in this room.
"The abuse happened on an industrial scale… and we're not going to give up."
The group now numbers over 700 people, who allegedly suffered several forms of abuse between the 1960s and the closure of the home, also known as "Shirley Hell", in 1983. More than 7,000 children passed through the facilities, and many more lived in similar Lambeth Council operated homes. The South London Council now faces having to pay out tens of millions of pounds in compensation to every person once "put at risk" as a child at Shirley Oaks.
Annon, however, believes that the fight is "not about the money."
"There's a lot of people out there who this has happened to and it stopped them from working, forging relationships, but it is about recognising what has happened," he said.
"These people [council officials] have to take the brunt of their predecessors. I feel sorry for them in a way, but then who is feeling sorry for us?"
SOSA figures show at least 48 children dying in Lambeth care homes and 27 others dying later of suicide, drug abuse, alcoholism, or illness.
You can share this story on social media: