Targeted homeless people sprayed with freezing water on 'hostile' British streets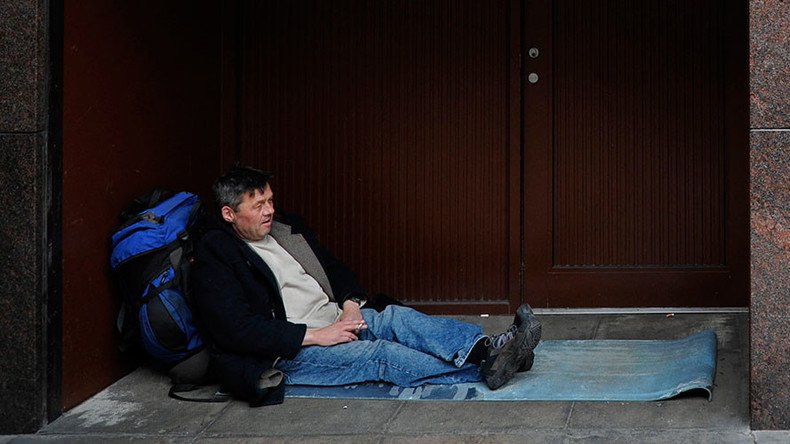 Homeless people are facing increasingly hostile streets as more rough sleepers find their nights disturbed by "deliberate noise pollution" and "defensive architecture," as well as attempts to spray them with water as they sleep.
Crisis, a homelessness charity, said 20 percent of those it surveyed claimed to experience deliberate attempts to disturb their sleep and force them away from public spaces.
Respondents to the survey said these measures included playing loud music, bird song and traffic noise from speakers, as well as metal spikes embedded into infrastructure.
John, one of 458 people Crisis spoke to who were sleeping rough or have slept rough in the last year, said he has experienced noise pollution in a tunnel that prevented him sleeping there.
"You just couldn't sleep, because of the noise, it was boats, trains, bird noises, animal noises, it was strange, it was altogether, you know, and it was weird, it was horrible," he said.
Steve, also homeless, said the noise "wasn't music it was like, bird's noises, boats… and then trains."
A third of those surveyed said these measures prevented them from finding anywhere to sleep at night, while some 60 percent said they have also seen a rise in spikes and other types of "defensive architecture."
Some 21 percent also reported being "wetted down" – when their sleeping bags and bedding is sprayed with water while they are still in them.
Two-thirds of respondents said they have seen an increase in security guards and wardens in public spaces who moved them along if they tried to sleep.
One homeless woman, Shelly, said police attitudes towards homeless people have changed in the UK.
"Before they'd leave you alone, whereas now, you know, they'll come actually looking for you, and either arrest you or move you on."
Earlier this month homelessness charity Shelter published findings indicating the number of homeless people in the UK has surpassed a quarter of a million.
Some 255,000 people are forced to live in hostels and other types of temporary accommodation or to sleep rough on the streets, the group found.
A homeless man was found dead on the streets of Birmingham just a day after the report was published, with some bystanders speculating he "froze to death" on one of the coldest nights of the year.
Crisis Chief Executive Jon Sparkes said: "The rise of anti-homeless spikes, noise pollution and other hostile measures is a sad indictment of how we treat the most vulnerable people in our society.
"Rough sleeping is devastating enough without homeless people having to endure such hostility from their surroundings.
"We can all be guilty of adopting an out of sight, out of mind attitude when it comes to homelessness. Instead we need to acknowledge that it is rising and that we need to work together to end it."
You can share this story on social media: