Thieves use angle grinder to steal £40k superbike… until brave Londoners step in (VIDEO)
Published time: 7 Dec, 2016 17:18
Edited time: 8 Dec, 2016 19:07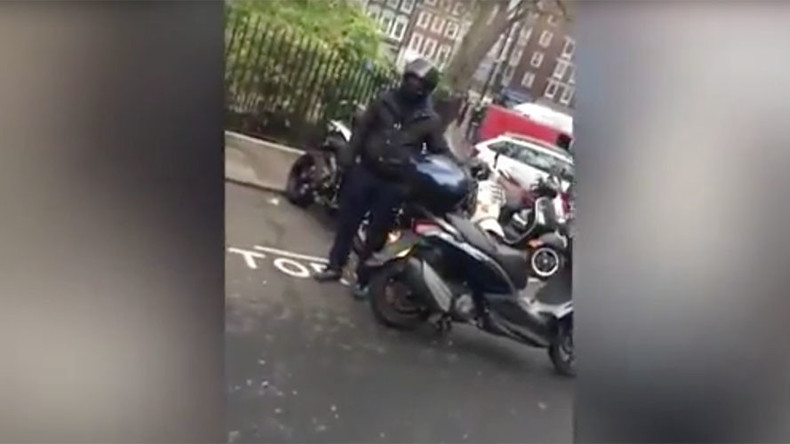 Dramatic footage has emerged showing two thieves attempting to steal a £40,000 motorbike from a London street in broad daylight before a group of courageous bystanders intervene.
The men had been trying to steal a Ducati superbike in Soho Square on Tuesday afternoon using an angle grinder to cut through its metal lock.
Video footage recorded by a tourist from Brazil shows how two witnesses confronted the pair in a bid to stop them from getting away with the theft.
One of the suspects, who was wearing a helmet, is seen lunging at the witnesses and shouting: "If you come near me I will kill you."
"Don't f*** with me," he later shouted when more witnesses approached.
The video then shows one of the men pulling away on the superbike, which they have successfully cut loose.
Soon after, however, a brave bystander shoves the bike from behind, causing it to wobble and ram into a van.
The thief then jumps onto his accomplice's moped and both flee the scene.
The video was posted online by Andrew Goetten, 30, who said he was walking back to his hotel when he saw the crime taking place.
"I wasn't scared because I'm used to this thing happening where I'm from, but I was surprised to see it happen in London," he told the Evening Standard.
"Even in Brazil, they wait until the night time before trying to steal any motorbikes."
A spokesman for the Metropolitan Police said officers had been alerted to reports of an attempted theft, but that no arrests had been made.
"Two males, a rider and a pillion passenger, were seen driving around the locations on a moped acting suspiciously.
"They attempted to steal a motorbike in Soho Square and a short while later stole a black Ducati motorbike in Manette Street. The stolen bike was later recovered.
"The suspects are described as white and Mediterranean appearance and aged in their 20s," he said.