Theresa May pledges to stand by Iran nuclear deal that Trump promises to 'dismantle'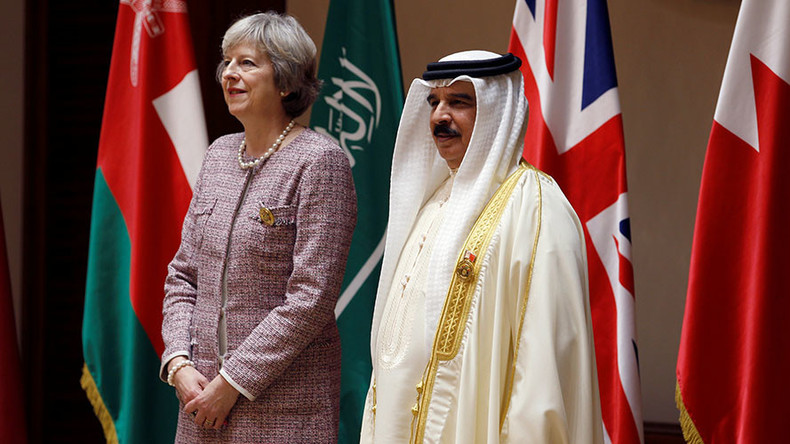 British Prime Minister Theresa May is standing her ground against US President-elect Donald Trump, as she prepares to tell Gulf leaders that she will continue to back the Iran nuclear deal.
May is visiting Bahrain and will be making a speech at the Gulf Cooperation Council on Wednesday.
She says she is "clear-eyed" on the issue, despite Trump's continuous attacks on the fragile diplomatic agreement.
"We secured a deal which has neutralized the possibility of Iran acquiring nuclear weapons for over a decade," May will tell regional officials.
"It has already seen Iran remove 13,000 centrifuges together with associated infrastructure and eliminate its stock of 20 percent enriched uranium.
"That was vitally important for regional security. But we must also work together to push back against Iran's aggressive regional actions, whether in Lebanon, Iraq, Yemen, Syria or in the Gulf itself.
"As we address new threats to our security, so we must also continue to confront state actors whose influence fuels instability in the region.
"So I want to assure you that I am clear-eyed about the threat that Iran poses to the Gulf and the wider Middle East, and the UK is fully committed to our strategic partnership with the Gulf and working with you to counter that threat," Britain's prime minister is to say.
The agreement reached between Tehran and the permanent members of the United Nations Security Council in June of 2015 has seen Iran's nuclear program scaled down, while some of the international sanctions on the Islamic Republic have been lifted in exchange.
The most important day at #PMQs for decades yet Theresa May is hanging out with tyrants in Bahrain, trying to flog then stuff

— Will Black (@WillBlackWriter) December 7, 2016
When the deal was finally reached, President Barack Obama called the agreement a "historic understanding" between the US and Iran, while Israeli Prime Minister Benjamin Netanyahu warned that it will "pave" Iran's "path to the bomb."
Trump has made his disapproval of the deal clear, promising to "dismantle" it when he reaches the White House. An extension of US sanctions on Iran was passed by the Republican dominated Congress last week.
However, Trump's position is not shared by the whole establishment. Outgoing CIA Director John Brennan dubbed Congress' extension of sanctions "disastrous" and the "height of folly."
Iranian President Hassan Rouhani has since said that Iran will not let Trump sabotage the nuclear deal, warning that extending US sanctions for another decade could amount to a violation of its terms.
Iran's president warned Trump against ruining the Iran agreement, which will no doubt prompt a couple of bitch-tweets from Drama Queen Trump

— Eileen De Freest (@eileendefreest) December 7, 2016
Rouhani, who is up for re-election in May, was one of the first Middle Eastern leaders to express disapproval of the US President-elect.
"Even if the US president signs the extension but waives it, we would still consider it a violation of the deal, and we would react," Iran's president said during an event at Tehran University.
"He may wish many things, he may wish to weaken or tear up [the nuclear deal], but will we and our nation allow such a thing? America cannot influence our path of strength and endurance," he insisted.
May's visit has been criticized by pro-democracy groups in Bahrain, who believe she is whitewashing the Gulf kingdom's record of human rights abuse.
"Theresa May talks about being the 'partner of choice' for reform in the Gulf, but we've already seen what that means in Bahrain and Saudi Arabia where the UK has been involved for years," said Bahrain Institute for Rights and Democracy director of advocacy Sayed Ahmed Alwadaei.
"British engagement has meant managing repression instead of ending it, shielding the country from UN probes into its violations, and being silent on the cases of rights campaigners like Nabeel Rajab," he stressed.
You can share this story on social media: