Marine convicted of executing wounded Afghan 'insurgent' allowed to appeal
Published time: 7 Dec, 2016 12:25
Edited time: 8 Dec, 2016 18:52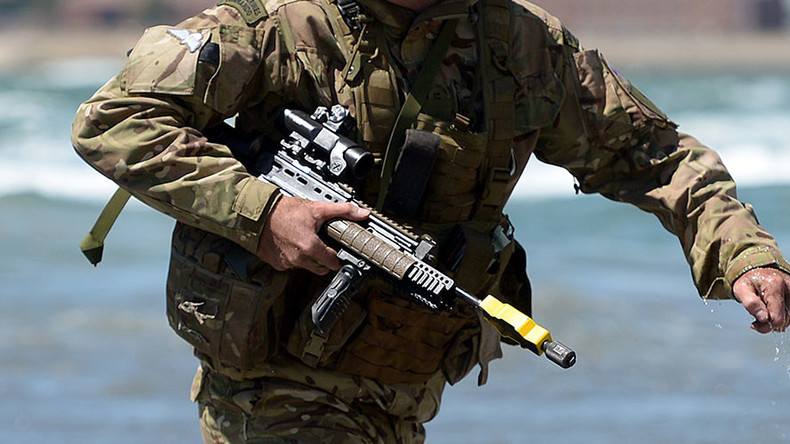 Commando Sergeant Alex Blackman, also known as Marine A, will be allowed to appeal against his prison sentence for murdering a wounded 'insurgent' in 2011.
Blackman was handed a life sentence of 10 years – later reduced to eight – for the battlefield killing which he carried out on camera and in front of other marines while quoting Shakespeare.
New evidence discovered after an 11-month investigation by the Criminal Cases Review Commission (CCRC) has led to the case being taken back before the Court Martial Appeal Court.
The appeal will be based on Blackman's mental health at the time of the case and the fact that the lesser sentence of manslaughter had not been an option at the original trial.
"We have concluded that there are new issues — principally relating to Mr Blackman's state of mind at the time of the shooting — which in our view raise a real possibility that an appeal against conviction would now succeed," David Smith, who headed the CCRC review, said in a statement.
"On that basis we are sending the case back so that a fresh appeal can be heard," he added.
Blackman's supporters argue his offense was manslaughter and not murder.
The killing was carried out at a time of extremely intense fighting and following the deaths of a number of Blackman's comrades as they operated out of an isolated base in Helmand province.
One of his comrades had his helmet camera still on when Blackman fired a pistol into the body of an Afghan badly wounded by an Apache helicopter.
He acknowledged in the recording, which was played in court, that he had broken the Geneva Convention and urged his fellow marines to keep it to themselves.
After he shot the wounded man he uttered the words "shuffle off this mortal coil, you c*nt."
Blackman's lawyer Jonathan Goldberg was optimistic about his client's chances.
"Of course, we still have a long road ahead, but there are strong grounds for optimism that Sgt Blackman will have his murder conviction quashed. The odds have turned in our favor, as 73 percent of all such referrals by the CCRC succeed," he told the Telegraph.
He said the team would now mount an effort to have Blackman released on bail by Christmas and that they expect the appeal to take place in the summer of 2017.