Royal Navy ships used 'well beyond sell-by date,' report warns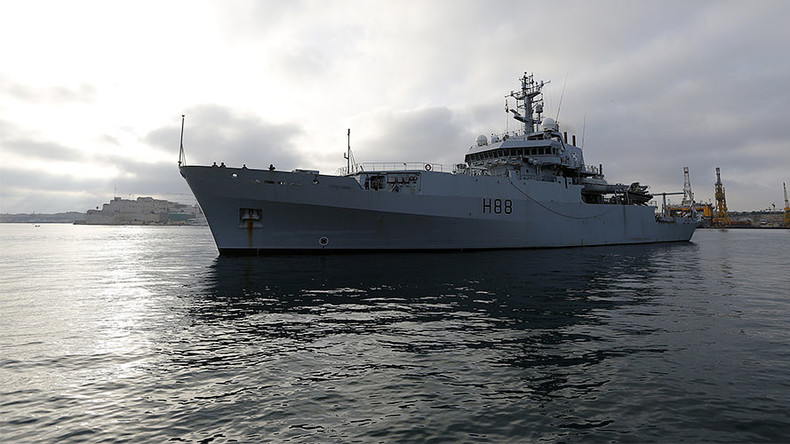 British naval ships are being kept in service "well beyond their sell-by date," according to a damning report, partly because of chaotic organization at the Ministry of Defence (MoD).
Mining magnate Sir John Parker's review into Royal Navy shipbuilding blasted the government for creating a "vicious cycle" in which new ships are being ordered too late, increasing costs over the long term.
Parker, chairman of mining company Anglo American, also suggested the Royal Navy should build new ships to sell them off at later date to foreign customers.
Britain's naval fleet has shrunk from 60 frigates in 1975 to just 13 today. Parker said Treasury cuts were primarily responsible for the downsizing, but also blamed poor organization in the MoD.
"Old ships are retained in service well beyond their sell-by date with all the attendant high costs of so doing," he wrote.
"This vicious cycle is depleting the RN fleet and unnecessarily costing the taxpayer. It needs to be broken."
He added: "Had project planning and execution been undertaken with pace and with a grip on project time and cost that should have prevailed, this situation could have been avoided."
Parker said Britain could export new ships if there is an "urgent need" from a foreign country.
"On occasion, if there is an urgent requirement for a new ship for an overseas naval customer, which is key to the sale of a series, the RN should be willing to support the export drive by releasing a ship for sale, earlier in the cycle than they normally would," he wrote.
First Sea Lord Admiral Sir Philip Jones welcomed the report and told the BBC the Royal Navy now has a "hugely ambitious growth agenda for the first time in a generation."
"That is a hugely ambitious and optimistic place to be and I am determined to make sure that right across the nation people recognize that their Navy is ready respond to that and grow in an appropriate way, and I think that is good news," he added.
Parker also said Navy contracts should be shared among companies to build time, rather than simply allocated to arms giant BAE Systems as has typically been the case.