Dodo skeleton sells at British auction for £346k
Published time: 23 Nov, 2016 15:55
Edited time: 25 Nov, 2016 12:09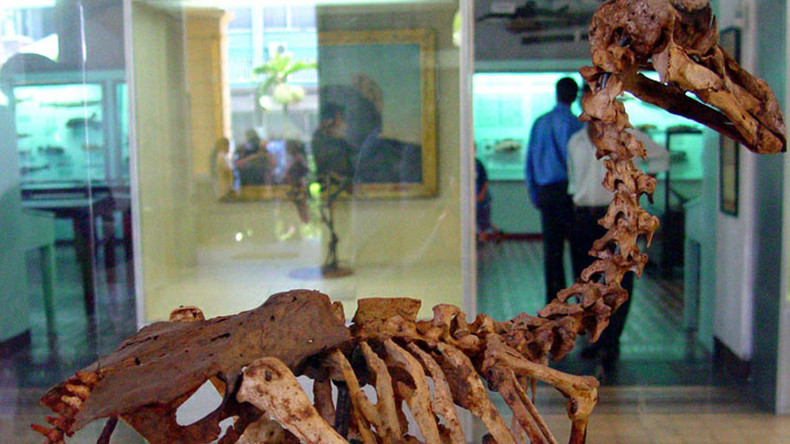 An almost complete skeleton of a Dodo, the extinct flightless bird, has sold at a British auction house for £346,300.
It is the first such skeleton to come up for sale in almost a century and was carefully built over many years from individual bones purchased by a man who started seeking them out in the 1970s.
The skeleton has around 95 percent of the structure of the flightless, meter-tall Mauritanian bird, which was hunted to extinction within 70 years of being discovered by Dutch sailors in 1598.
A spokeswoman for Summers Place Auctions said the bones went to a private collector who bid by telephone.
"The dodo bones had been collected by a dodo enthusiast for 40 years until he realized he had enough bones to create an almost complete skeleton of this extinct bird," she told the Guardian on Wednesday.
"There are only about 12 similarly complete skeletons in existence and they are all in museums around the world," she added.
Given the Mauritian government's ban on dodo bone exports it is unlikely another composite skeleton will appear.
The sale of the long-lost bird comes just weeks after a report predicted the number of wild animals on Earth could fall by more than two-thirds in the 50 years to 2020.
The Living Planet Report 2016 places the blame on the destruction of habitats, hunting and pollution. The forecast could have major consequences for humans.
The report's authors also took into consideration the recent trend in animal population decline, citing a 58 percent plummet between 1970 and 2012.
Researchers analyzed the changing presence of 14,152 monitored populations of the 3,706 vertebrate species – mammals, birds, fish, amphibians and reptiles among them.
According to the paper, the major cause of the decline is the destruction of wilderness areas by farming and logging. Pollution was also mentioned as a significant contributor.