Nigel Farage savages Downing Street in blog for alt-right site Breitbart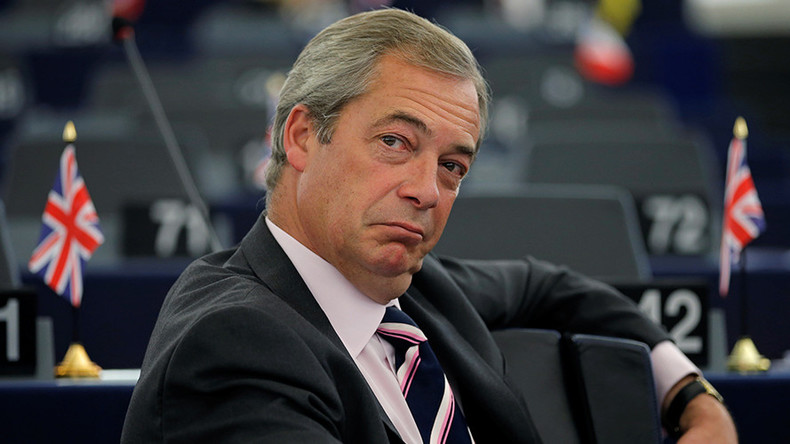 UKIP's Nigel Farage has again accused Downing Street of putting its dislike for him ahead of the national interest after the government dismissed a call from President-elect Donald Trump to make Farage the UK's ambassador to the US.
Writing for the alt-right news website Breitbart, the former editor of which recently became Trump's chief strategist, Farage said: "The world has changed and it's time Downing Street did too."
He added he was in a "good position, with the President-elect's support, to help."
On Monday night, Trump tweeted that Farage would do a "great job" as ambassador, and "many people" wanted to see him as the UK's senior diplomat in Washington.
The tweet came as a fresh embarrassment to UK Prime Minister Theresa May, who has repeatedly said there is "no role" for Farage in building relations with Trump.
Downing Street immediately retorted to Trump's tweet that there was "no vacancy," and said Britain's incumbent ambassador Sir Kim Darroch was doing an "excellent" job.
Writing on the Breitbart website, Farage denounced what he called "career politicians" pretending to be Trump's friend after previously criticizing him.
"The political revolution of 2016 now sees a new order in charge of Washington. In the United Kingdom the people have spoken but the players at the top have, I am afraid, stayed the same," he said.
"Those who supported Remain now hold senior positions. Worst still, those who were openly abusive about Trump now pretend to be his friend. It is career politics at its worst and it is now getting in the way of the national interest.
"I have said since the now famous photograph with Donald Trump 10 days ago that I would do anything to help our national interest and to help cement ties with the incoming Anglophile administration.
"At every stage I am greeted by negative comments coming out of Downing Street. The dislike of me, UKIP and the referendum result is more important to them than what could be good for our country."
Reflecting on Trump's rise to power and Brexit, Farage writes: "When historians look back at 2016, it will stand out as the year that changed everything.
"The joyous Brexit result was the first brick knocked out of the establishment wall. What followed with the victory of Donald J Trump has still not sunk in with the establishment that he beat," he added.
"But the world has changed. And people need to face up to this."
Farage went on to praise Trump, calling him "thoughtful," "reflective," and "loyal."
"His energy and indomitable spirit are beyond doubt and I do believe he has all of the qualities needed to be a great President."
Breitbart, which has repeatedly been described as racist and inclined to promote white supremacist views, was until recently run by Steve Bannon, who has now been hired as chief strategist for Trump's presidency. Raheem Kassam, a senior UKIPer who attended the meeting with Trump and Farage in New York, is the editor-in-chief for Breitbart's London office.
Since Trump's election, May has been careful to avoid any criticism of Trump, and Downing Street revealed on Monday that an invitation for a state visit to the UK is under consideration.
You can share this story on social media: