Trump says UKIP leader Farage would do 'great job' as British ambassador to US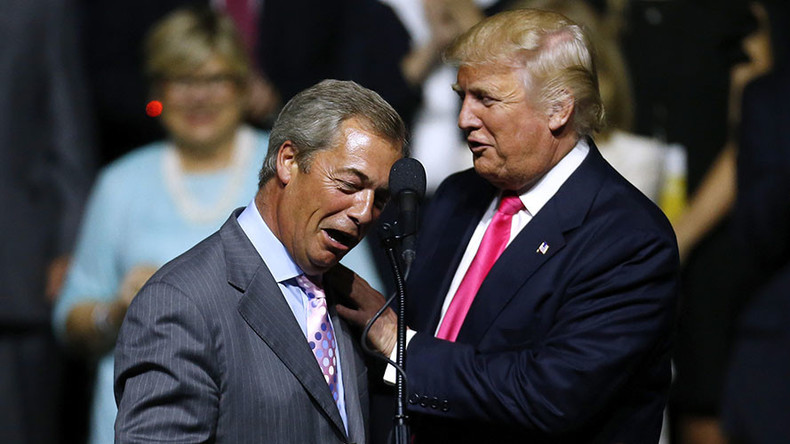 Donald Trump has announced that Nigel Farage – often described as the president-elect's British kindred spirit – would do a "great job" as the UK's ambassador to the US, saying that "many people" would like to see him in the post.
"Many people would like to see @Nigel_Farage represent Great Britain as their Ambassador to the United States. He would do a great job!" Trump tweeted Monday evening.
Speaking to the BBC, Farage said he had been awake since 2am UK time when the tweet was first posted. He said he was flattered and described it as "a bolt from the blue."
He said he did not consider himself the typical diplomatic figure but "this is not the normal course of events."
However, a Downing Street spokesman said: "We have an excellent ambassador to the United States and he will continue in his work."
The spokesman said the ambassador only took office this year and normally the job is held for at least four years.
"We appoint our ambassadors," he added.
Brits responded in disbelief to Trump's suggestion. The hashtag #BetterAmbassadorsThanFarage is now trending on Twitter.
Although it is unusual for an incoming president to suggest ambassador choices for other countries, it is perhaps unsurprising in this case, due to Trump's friendly relationship with the UK Independence Party (UKIP) leader.
The two have grown especially close in recent months, with Farage becoming the first foreign politician to visit the president-elect, arriving at Trump Towers just three days after the November 8 election.
'Relaxed & full of good ideas': Farage first UK politician to meet US President-elect Trump
In a tweet following that meeting, Farage praised Trump's "good ideas" and expressed confidence in the next leader of the United States.
Farage also campaigned for Trump in Mississippi in August, and is expecting an invitation to his inauguration in January, a source told the Guardian.
Trump repeatedly compared his campaign to the UK's historic Brexit decision, often mentioning Farage – the major voice behind the push to leave the EU – at his rallies and referring to himself as 'Mr. Brexit.'
But Trump's recommendation could create waves on both sides of the Atlantic.
Following Trump's tweet, UK Prime Minister Theresa May's office spokesman said there was currently no vacancy for ambassador to the United States.
"There is no vacancy," the spokesman said when asked about Trump's remark on Tuesday. "We already have an excellent ambassador to the US."
Prime Minister May earlier rejected Farage's offer to act as a go-between in her relationship with Trump. Number 10 stated that the government already has "well-established" lines of communication with Washington.
In the US, Trump's support for Farage becoming the UK ambassador will likely be unsettling to the current holder of the post, Sir Kim Darroch, who has only held the position since February.
You can share this story on social media: