London bridge shut down by domestic violence protest (VIDEOS, PHOTOS)
Published time: 20 Nov, 2016 17:58
Edited time: 22 Nov, 2016 12:59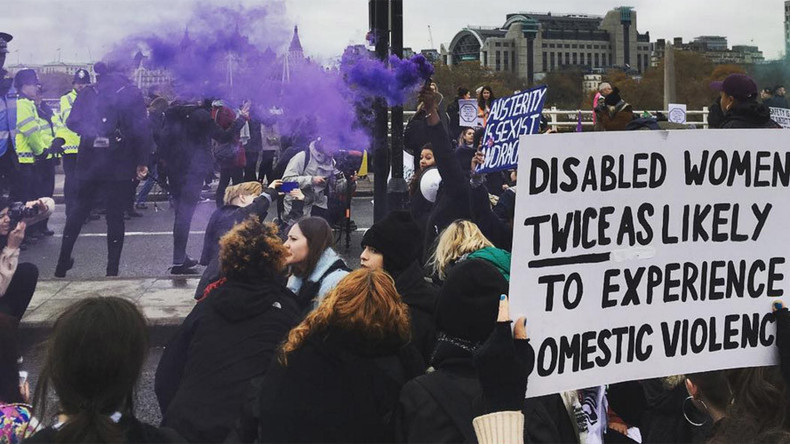 London's Waterloo Bridge was shut down after a group of activists known as Sisters Uncut staged a sit-down protest in opposition to cuts to domestic violence services in the UK.
The group were staging simultaneous demonstrations across the UK on Sunday in London, Bristol, Birmingham, Newcastle and Glasgow.
The London protest began in Trafalgar Square where the names of women killed by a partner or ex-partner in the last year were read out.
Protesters then moved to Waterloo Bridge, where they stayed for an hour. Police said the busy bridge needed to be closed for 20 minutes when some of the group staged a sit-down protest.
Placards reading "Bridges to safety are a right not a privilege," and, "You block our bridges. We block yours," were on display.
The group are warning that £20 million in additional funding promised by the UK government for domestic abuse services isn't enough.
Two women are killed each week by a partner or ex-partner according to Sisters Uncut, who also say there are growing difficulties for minorities accessing the services. "Four in five Black and Minority Ethnic women who approach refuges are turned away," according to the group. Migrants arriving in the UK do not have access to the services as they are without state support.
PM Theresa May was "treating life-saving support like a prize to be won" after opening a bidding war for the services, they warned.
Sisters Uncut list their demands on their website, including: "No more cuts to domestic violence services," and, "Panic rooms should not be classified as a spare room under the Bedroom Tax."