Man who shot & stabbed MP Jo Cox yelled 'Britain First,' murder trial hears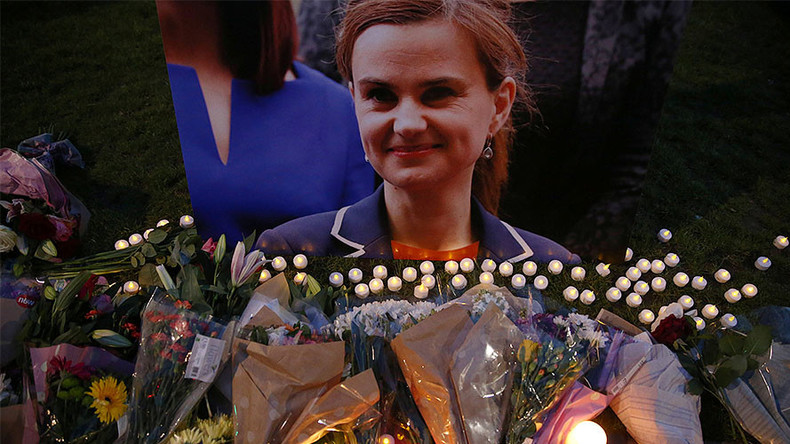 The man accused of murdering Labour MP Jo Cox in a terrorism-related attack a week before the EU referendum attended the first day of trial at the Old Bailey in London on Monday.
Thomas Mair, 53, is accused of shooting and stabbing the MP for Batley and Spen in Birstall, where she was due to hold constituency meetings.
On the opening day of trial, the prosecution told jurors Cox was "brutally murdered ... in what was a planned and pre-meditated murder for a political and/or ideological cause."
Prosecutor Richard Whittam QC said: "As she arrived she was brutally murdered by one of her constituents, this defendant, Thomas Mair.
"It was a cowardly attack by a man armed with a firearm and a knife.
"Jo Cox was shot three times and suffered multiple stab wounds."
The court heard that in the run up to the murder, Mair searched the web for Nazi material, murdered Tory MP Ian Gow, and Remain-supporting MP and former foreign secretary William Hague.
During the course of the murder Thomas Mair was heard by a number of witnesses to say repeatedly 'Britain First.'"
Mair has also been charged with grievous bodily harm after allegedly attacking a 77-year-old man who tried to prevent the assault, and for possessing a firearm and a dagger.
Cox, a 41-year-old mother of two, was gunned down in broad daylight on June 16 outside Birstall Library at around 13:00 GMT. She was a supporter of the Remain campaign during the referendum and a defender of the rights of refugees.
Some witnesses described hearing the attacker shout "Britain First" or "Put Britain first" as he carried out the murder.
Mair denies murder. The trial continues.
During his first court hearing, shortly after the attack, Mair gave his name as "death to traitors, freedom for Britain."
At a hearing in October, the accused declined to enter a guilty or not guilty plea.
Mair allegedly has ties with right-wing extremism and has reportedly spent hundreds of dollars on literature published by the US neo-Nazi group National Alliance.
Mair sent more than US$600 to the extremist group, according to the Southern Poverty Law Center.
One 1999 receipt from the National Alliance's publisher shows Mair purchased an 'Improvised Munitions Handbook,' as well as literature on 'Chemistry of Powder & Explosives.'
The group advocates for a "white world" and "the establishment of white living space" on its website.
It has also been reported that Mair, a Birstall local, used mental health services in the area.
Lawyers for the accused said during an earlier hearing that his alleged psychiatric issues would not feature in their arguments at trial.
Labour's Tracy Brabin was elected to Cox's seat in Parliament last month in a by-election which saw only fringe right-wing parties field candidates.
Far-right groups such as the British National Party (BNP) contested the seat, arguing Cox was partly responsible for her death because she "helped" Muslims enter the UK.