Effigy of Trump holding Hillary Clinton's severed head to be burned on Guy Fawkes night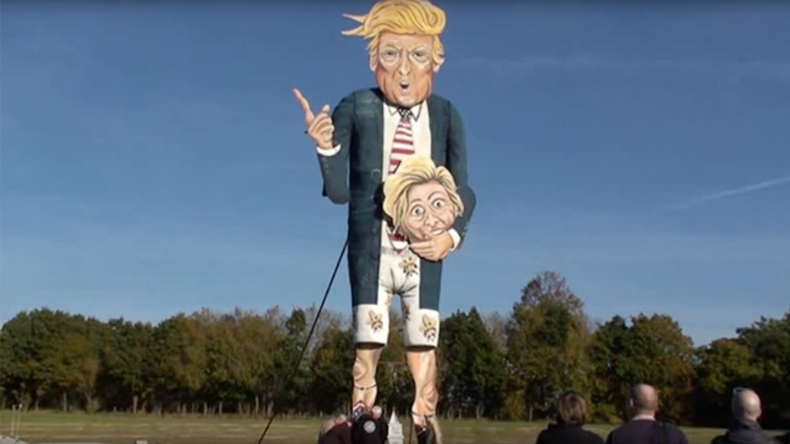 The famous bonfire celebration in Edenbridge, Kent, will this year feature a 36ft (11 meter) effigy of Donald Trump holding Hillary Clinton's severed head being set on fire.
The presidential candidates were chosen from a list of effigy designs, as many other celebrity names were proposed for the pyre, including former BHS boss Sir Philip Green and fallen soccer coach Sam Allardyce.
"We were spoilt for choice in terms of potential contenders with a shortlist of around 10 potential runners but the people's choice stole the vote," said Edenbridge Bonfire Society spokesman Jeni Fox.
"We are literally helping Trump to live out his own catchphrase 'burn it down' by exploding the 11 meter effigy as the opening act for our fireworks display."
The steel-framed model, packed with fireworks, will be reduced to ashes mere days before election day.
The Trump effigy will be dressed in a pair of boxer shorts with images of Mexican men emblazoned on them. He will also wear an Americana tie and socks.
Even his trademark hair and orange tan are highlighted in the design.
As for his opponent, Fox added: "It only seemed fair that Hillary Clinton took some of the limelight, and we are sure the presidential candidates will be pleased to see they are both featured."
The bonfire is a traditional feature of Guy Fawkes Night celebrations, which commemorate a 17th century failed attempt to blow up Parliament. Bonfires and firework displays take place in towns and cities nationwide, with many including effigies of well-known, often controversial, public figures.
Previous years have seen effigies of one-time FIFA President Sepp Blatter, former Prime Minister Gordon Brown and comedian Russell Brand set alight.