'Death trap': UK's new £3.5bn tank can only beat 'incompetent enemies'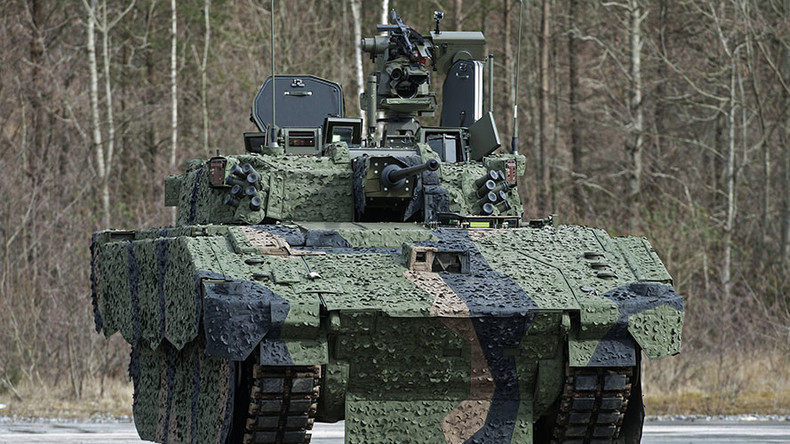 Glitches with the Ajax's advanced weaponry could leave the £3.5 billion (US$4.28 billion) project heavily delayed as questions are raised over the utility of the lightly-armored vehicles against Russian artillery.
A former senior defense official told the Times on Tuesday that Ajax "is fine if you are operating against incompetent enemies, but if you are up against a peer enemy this thing is useless, it's a death trap."
Britain signed a deal with US arms giant General Dynamics for nearly 600 Ajax mini-tanks in 2014 with the first deliveries expected in 2017 and the full order in the UK by 2024.
Issues were first reported during overseas trials in 2016, with one official who recently left the Ministry of Defence (MoD) telling the paper "there are quite a few reasons why the program has been delayed."
He said a device attached to the turret to feed rounds into an attached weapon "failed" when "subject to vibration."
Arms firms and the MoD have rallied around the project.
A spokesperson for BAE Systems claimed "deliveries were ahead of schedule," while a Lockheed spokesperson insisted "early indications point to a component failure and not a design flaw."
Despite claims the rounds for the cannon were many times more expensive than those on already-available equivalent systems, the military said the cannon in question is more than a match for rival models.
An MoD spokesman said the program would "deliver the very highest standards of scalable protection, reliability, mobility, lethality, and all-weather surveillance."
The Ajax project ran into controversy in May when it was reported that the first 100 would be built in Spain with Swedish steel – despite the UK steel industry's seemingly imminent collapse.
The Ajax is meant to be the stalwart of Britain's new rapid reaction strike brigades as the army seeks to reorganize to face the perceived Russian threat.
A prototype was first test-fired in mid-April. There will be a number of variants including an engineering model and a field ambulance version.
The Ajax program hit another snag in January after it emerged its sheer weight meant it had to be taken apart to put it on a plane, worrying for a vehicle meant to serve as the mainstay of a rapid-reaction force.