What steel crisis? 100 British 'supertanks' to be built with Swedish steel… in Spain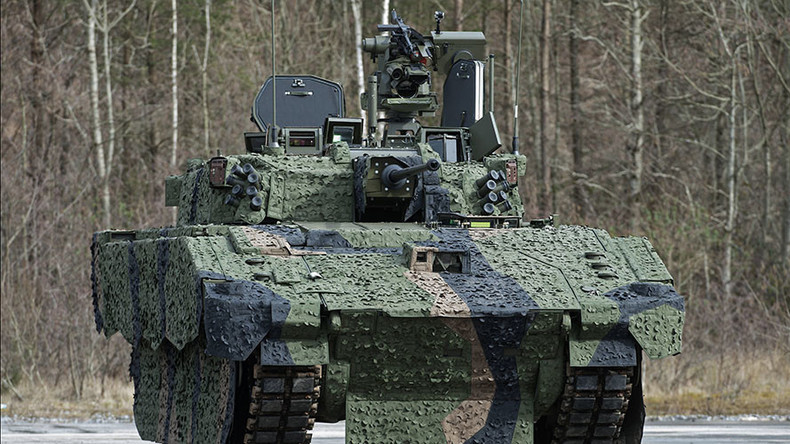 The first 100 next-generation Ajax battle tanks earmarked for use by the British Army will be built in Spain with Swedish steel – despite the UK steel industry's seemingly imminent collapse.
It was reported Monday that the first 100 Ajax vehicles will be produced in Spain to ensure that they are in service by 2017.
They will also reportedly be made of Swedish steel, despite the fact that the UK steel industry appears to be in a state of collapse, with a number of firms – and tens of thousands of jobs – at risk.
Eventual production of the rest of the new tanks – the full complement is expected to be around 600 – will take place in Merthyr Tydfil, in Wales, as part of a projected £4.5 billon program.
It comes against a background of crisis in one of Britain's last remaining heavy industries.
In March, Indian-owned Tata Steel said it would sell its UK business after Thai company SSI announced the closure of its Redcar works.
The collapse, blamed partially on cheap steel from China, has led to clashes in parliament and outrage among trade unions over the future of British steel and its thousands of skilled workers.
The Ajax is meant to be the stalwart of Britain's new rapid reaction strike brigades as the army seeks to reorganize to face the perceived Russian threat.
A prototype was first test-fired in mid-April. There will be a number of variants including an engineering model and a field ambulance version.
The Ajax program hit a snag in January after it emerged its sheer weight meant it had to be taken apart to put it on a plane, worrying for a vehicle meant to serve as the mainstay of a rapid-reaction force.
A senior army source told the Daily Star in April: "You couldn't make this up. It is ridiculous."
"We have the latest and best reconnaissance tank in the world but before we can deploy it we will need to stop and unbolt the armor," the source said.
The Ministry of Defence (MoD) told RT Monday that the government was "determined to see as many MOD projects designed, built and manufactured here in the UK."
"The AJAX programme alone is sustaining 2,800 jobs across the country at more than 210 companies across the UK supply chain," they added.