Mass exodus of London bankers could come early 2017, financial institutions warn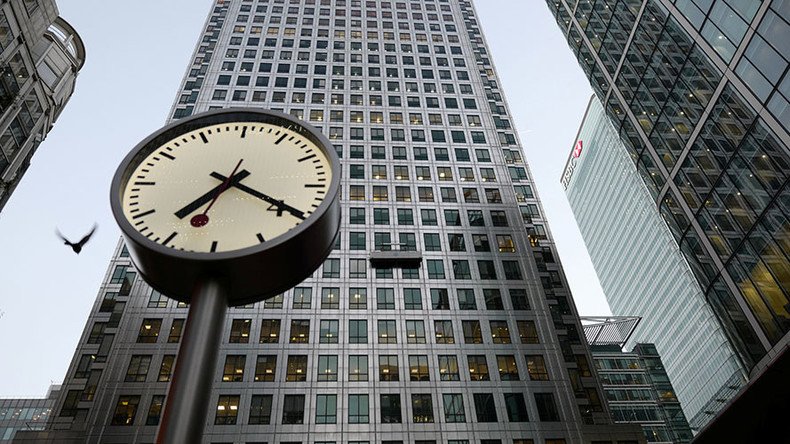 Top London-based banks have warned they could relocate to continental Europe as early as next year if there is no clarity on whether Britain will retain access to the single market post-Brexit.
Senior executives from European divisions of some of the world's biggest financial institutions told a conference in London on Tuesday they needed to act urgently on protecting their businesses.
Rob Rooney, CEO of Morgan Stanley International, said his bank would have to move parts of its operations from London if Britain were shut out of the single market.
"It really isn't terribly complicated. If we are outside the EU and we don't have what would be a stable and long-term commitment to access the single market, then a lot of the things we do today in London, we'd have to do inside the EU 27," he said, according to Reuters.
Prime Minister Theresa May has said she would trigger the two-year process to leave the EU by the end of March next year. Last week she appeared to prioritize capping immigration over retaining access to the single market.
The future of London as Europe's financial center is expected to be a major negotiating point in May's talks with EU partners. Banks have previously suggested that without a "passporting agreement," which would allow them to serve clients across Europe from London, they will have to move jobs to other parts of the EU.
Russia's VTB Bank is the first big lender to publicly announce it will move its investment banking unit out of the UK because of the disruption expected to be caused by Brexit, the Financial Times reports.
Herbert Moos, deputy chairman and chief financial officer of VTB, said the board of the state-owned lender was considering alternative locations for its European hub such as Frankfurt, Paris and Vienna.
"We did have bigger plans for the London office, but after Brexit we are scaling them down and building them elsewhere," Moos said.
"Our board will decide by the end of the year."
Banks such as Citi, Morgan Stanley, Goldman Sachs, BNY Mellon and others together employ more than 25,000 people in the UK.
Speaking at the conference, financial leaders added the government's tougher rhetoric on immigration risked harming the economy.
James Bardrick, the UK head of US bank Citi, said London began to rival New York as a financial centre in the 1980s because it welcomed people regardless of their nationality or gender.
"If we lose that, and we allow not Brexit itself, but some of the sentiments expressed nationally that led up to the referendum to erode that culture, then I think it damages London as a financial center," he said.
Last week, British Chancellor Philip Hammond traveled to New York to cozy up to Wall Street power-brokers in a bid to convince them London would keep its position as the world's leading financial hub after Brexit.
Norway rejects UK request for joint trade taskforce
Meanwhile, Norway has reportedly turned down a request from Britain to set up a formal joint taskforce aimed at preparing a post-Brexit free trade deal between the two countries, Norwegian media have reported.
The newspaper Dagens Næringsliv said UK International Trade Minister Liam Fox had asked Norway's trade and industry minister, Monica Mæland, to form a bilateral trade working group at a meeting between the two ministers in September.
However, this has reportedly been rejected, as it is likely to jeopardize Norway's European Economic Area (EEA) agreement and is "inappropriate" while Britain is still a full member of the EU.
The 'Norwegian model' has been held up by some pro-Brexit campaigners as a possible way for the UK to access the single market via the EEA.
However, the government's insistence on controlling immigration and regaining parliamentary and judicial sovereignty after Brexit may rule that out, as EEA membership requires 'the four freedoms,' including the free movement of people.
You can share this story on social media: