'Hard Brexit' could lead Britain to lose up to 9.5% of GDP – leaked govt. papers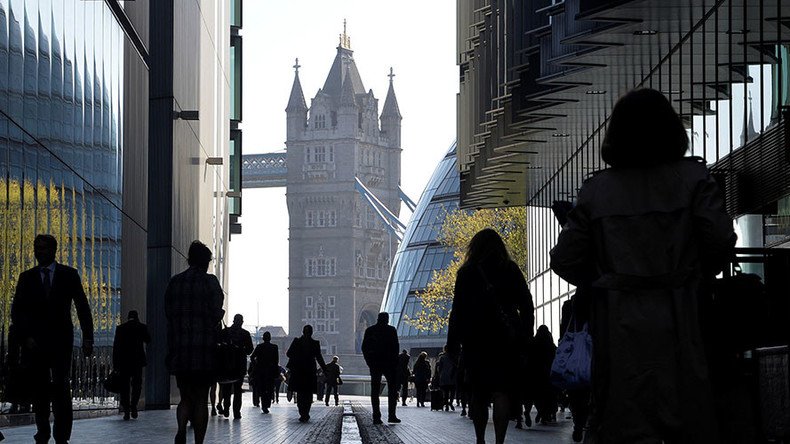 A 'hard Brexit' could cost the UK Treasury up to £66 billion in tax revenues each year, according to leaked government papers seen by The Times. The documents also estimate a drop in GDP of up to 9.5 percent, compared with staying in the EU.
The draft cabinet committee paper is based on a Treasury study into the predicted impact of leaving the EU, which was commissioned by Conservative MP George Osborne during the referendum campaign in April.
A 'hard Brexit' would see the UK leave the single market and switch to World Trade Organization (WTO) rules – a move which would cause gross domestic product (GDP) to decline by up to 9.5 percent, according to the document.
"The Treasury estimates that UK GDP would be between 5.4% and 9.5% of GDP lower after 15 years if we left the EU with no successor arrangement, with a central estimate of 7.5%," the paper reads.
Assuming no EU contributions are made, the annual loss would be between £38 billion ($46.7 billion) and £66 billion ($81 billion) per year after 15 years, with the "smaller size of the economy to blame," according to the document.
The "worst case" numbers were given in papers prepared for ministers before cabinet committee discussions.
Brexit campaign leaders who have seen the paper accuse the document of being "withdrawn from reality" because it fails to assume the continuation of any trade deals, The Times reported.
They said the Treasury is trying to use scare tactics, as it did ahead of the referendum, and accused it of "trying to make leaving the single market look bad."
Those against Brexit, however, say the paper outlines the catastrophic results of leaving the trading bloc.
"This is yet more proof that hard Brexit would be an act of sheer economic vandalism," said Liberal Democrat leader Tim Farron, as quoted by the Press Association. "We cannot stand by while this reckless, divisive and uncaring Conservative government wrecks the UK economy."
READ MORE: Business leaders warn Theresa May "hard Brexit" would destroy Britain's economy

The leaked paper is believed to be a draft, meaning it must go through 10 Downing Street before being circulated.
Although the Treasury study was deemed controversial and dubbed "propaganda" when it was published earlier this year, it is understood that the Treasury is standing by its numbers.
The leak comes just one day after a spokesman for UK Prime Minister Theresa May ruled out giving MPs a vote on Brexit, saying it would "second guess" the will of the British people.
You can share this story on social media: