Pound flash crashes to new low as fears of 'Hard Brexit' mount
Published time: 7 Oct, 2016 09:29
Edited time: 7 Oct, 2016 10:06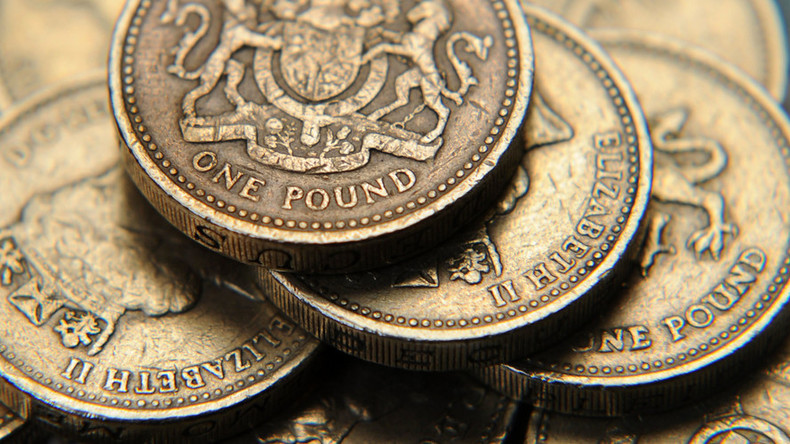 The British pound hit its lowest level since 1985 on Friday plunging to $1.1819 against the dollar in early Asia trading. The crash added to sterling's earlier losses on speculation the UK is heading for a 'hard Brexit'.
Sterling later bounced back to $1.2386 as of 9:20 GMT, but remained at a 31-year low. Other major currencies were stable on Friday. The euro was down 0.3 percent to $1.1117 while the Japanese yen was 0.15 percent stronger at 103.90 to the dollar.
The pound's fall sent the FTSE 100 up by 28 points to 7,028 as Britain's blue-chip index tends to rise when the pound drops. The index consists of the biggest UK companies that earn mostly in dollars, rather than pounds.
Friday's fall was the most aggressive since results of the Brexit vote emerged on June 24, according to spread betting firm IG.
The plunge left traders confused over the cause, with analysts claiming it might have been 'fat finger' error or a technical glitch in response to 'hard Brexit' warnings.
"This was even a bigger move than what we saw after the Brexit vote. There were almost no offers, no bids when this happened," said a trader at a European bank in Tokyo.
"What we had was insane – call it a flash crash, but the move of this magnitude really tells you how low the currency can really go. Hard Brexit has haunted sterling," chief market analyst at Think Markets, Naeem Aslam told The Guardian.
Some experts say the selloff has been triggered by French President Francois Hollande's comments, who said if the UK's Prime Minister Theresa May and others want a hard Brexit, they will get a hard Brexit.
The sterling's 'flash crash' was "ostensibly triggered by harsh comments on UK exit terms from French President Hollande," said Adam Cole at RBC Capital Markets as cited by the Huffington Post.
The British currency has fallen by 13 percent against the US dollar since Britain voted to leave the European Union on June 23. The pound has come under renewed pressure and losses accelerated after Prime Minister Theresa May announced she would trigger article 50 by March, which meant an early start of UK's formal exit.
The Prime Minister's words were interpreted as leading to a 'hard Brexit', in which Britain would leave the single market causing a significant disruption to the country's economy.