Hiroshima & Nagasaki survivors tell British MPs to scrap nuclear weapons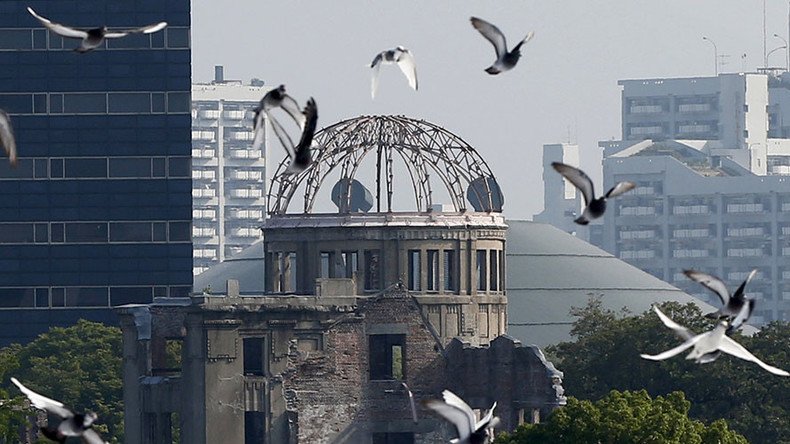 Japanese survivors of the US atomic bombing of Hiroshima and Nagasaki visited the British parliament on Tuesday to call for an end to nuclear weapons just two months after MPs voted to renew the Trident constant at-sea deterrent.
MPs, non-governmental staff, and students gathered to hear the personal accounts of five "hibakusha" – as survivors of the nuclear blasts are known in Japan.
Lord John Dunn Laird, who organized the event, described it as a "humbling experience."
One speaker, Takaaki Morikawa, was 6 years old when the US military dropped the world's first atom bomb on Hiroshima.
He was 10 kilometers away from ground zero and was exposed to radiation through dust, soot, and the nuclear fallout that fell as black rain.
Morikawa spoke of how the bombing affected him and his family's life and called for the abolition of nuclear weapons, saying "even one nuclear weapon is too many."
Between 129,000 and 246,000 people were killed in the nuclear bombings of Hiroshima and Nagasaki in 1945.
A-bomb survivors continue to suffer higher rates of cancer, especially leukemia, than the general population.
The talk was part of a global tour organized by the Japanese civic group Peace Boat, which traveled to Britain by sea from Japan, stopping at various destinations along the way.
The group also visited the Hackney Museum, the 19 Princelet Street immigration museum, and schools in London.
Organizer Lord John Dunn Laird said: "This has been a humbling experience.
"The more people who consider these questions, the more likely it is to be a peaceful world."
British lawmakers voted overwhelmingly to renew the country's nuclear weapons program in July after a heated debate in which Labour leader Jeremy Corbyn spoke out against the project.
Prime Minister Theresa May spoke strongly in support of renewing Trident. Asked by Scottish National Party (SNP) MP George Kerevan whether she would be "personally prepared to authorize a nuclear strike that can kill 100,000 innocent men, women and children," the Tory leader gave a resounding yes.
You can share this story on social media: