'Method for massacre': Hiroshima survivor warns MPs against Trident nukes renewal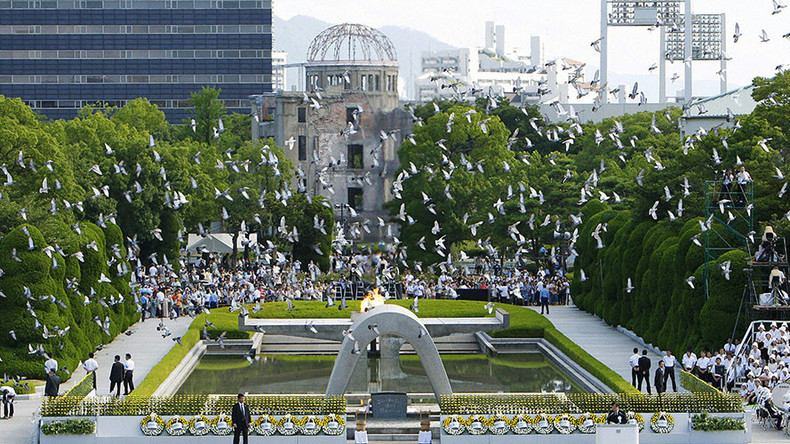 Setsuko Thurlow, who survived the US atomic bombing of the Japanese city of Hiroshima in 1945, has urged British MPs to reject the renewal of its at-sea nuclear deterrent, Trident, after recounting her "horrific memories."
Addressing MPs in Parliament on Wednesday, Thurlow described her childhood experience of the bombing.
She's 84 now but was 13 at the time of the attack, and said her school friends "literally melted."
She finished her talk by calling on MPs to say 'no' to Trident, which she described as a "method of massacre of humanity."
MPs will vote on the renewal of Britain's nuclear weapons system at some point after the June 23 referendum on Britain's EU membership.
Trident renewal is currently supported by most Conservative MPs and opposed by the Scottish National Party (SNP). Labour is split over the issue, with many senior figures in the party supporting renewal while leader Jeremy Corbyn is passionately opposed.
Speaking to STV on Tuesday, Thurlow said she and her classmates were starting their first day of work at an army headquarters on the day of the bombing, about a mile from its epicenter.
She described being on the second floor of a wooden building and seeing a bluish-white flash "like a magnesium flare" through the glass.
Thurlow recalled later feeling the sensation of floating in the air, waking in total darkness and hearing cries for help from her classmates nearby.
An unknown man lifted fallen timbers that had pinned her to the ground and pushed her towards an opening as the building burned. Thurlow's classmates were burned alive.
In a talk given to the Physicians for Global Survival in 2003, she described seeing victims with "strips of skin and flesh" that "hung like ribbons from their bones."
More than 140,000 people were killed in the Hiroshima bombing, and a further 70,000 when the second A-bomb was dropped on Nagasaki.
Thurlow is known in Japan as a hibakusha, a shrinking group of survivors who continue to be discriminated against when it comes to finding employment or marrying, over fears they were affected by radiation.
Like many other hibakusha, she has pledged to use her experience to prevent another atomic bombing ever taking place.
"The survivors are getting old and passing away, leaving a smaller number of us," Thurlow told STV after spending a week in Edinburgh sharing her story with school children and politicians.
"I have traveled to Scotland to warn against the renewal of Trident. I want to touch hearts and minds. Depending on nuclear weapons as a solution to a problem is nonsense. It is illusion and delusion."