Robot Bank of Scotland: UK lender introduces 'warm, approachable' AI to talk to customers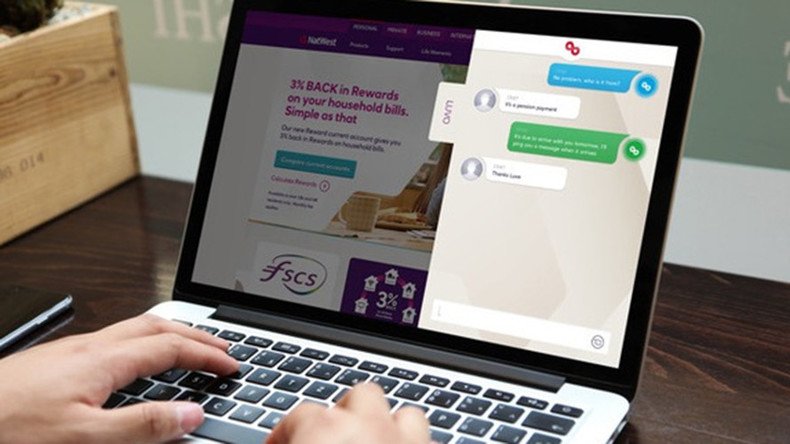 The majority state-owned Royal Bank of Scotland (RBS) is to become the first British high-street bank to use a sophisticated AI program, nicknamed Luvo, to communicate with its customers, as it cuts its human staff.
After a several-month trial in which staff used the AI internally, while they dealt with business clients, RBS will let Luvo talk directly to the outside world by the end of 2016.
Luvo functions as a chatbot – a program that opens when you access the bank's website – that you can ask typical customer service questions, concerning lost PINs and credit cards that need to be replaced.
At first glance, this is nothing extraordinary, and chatbots have become a frequent feature for websites dealing with a large flow of individual queries.
But RBS and IBM, which spent millions developing the program together, say that it is revolutionary, with a nuanced understanding of human speech, a "unique" personality, and an ability to learn on the job.
"To be helpful it has to understand dialogue," the bank's managing director of digitization, Chris Popple, explained in a presentation earlier this year. "Other digital agents try to force the customer into the question, if the answer isn't on the list, it stops the interaction. Dialogue is the most important aspect."
Luvo is also calibrated to detect the mood of the person writing a query, and to project a tone that strikes the right balance between functional and obsequious.
"Luvo is unique in that a "human-like" personality has been created for it. This makes it easier for employees to interact with and seek help from it. Its unique psychological profile means it has a warmth to its personality, is approachable, creative and uses a combination of intuition and reasoning when answering questions," RBS said in a statement.
Finally, blessed with a near-infinite memory Luvo remembers every conversation it has ever had with a client, learning particularly from those where it couldn't help, or simply frustrated its human interlocutor.
"Like humans, Luvo has to be trained when dealing with new subject matter but, crucially, it learns from its mistakes and its answers become more accurate over time," says RBS.
The Edinburgh-headquartered bank says that at the moment customers will not be forced to talk to Luvo if they don't want to, and one of its responsibilities is to purposefully hand off the more difficult questions to the correct human advisor.
IBM developed Luvo using its Watson platform, a versatile information processing system that rose to fame when it beat top players on the US game show Jeopardy in 2011, and is now widely used to help doctors diagnose patients, using information about the reported systems to determine the likely health issue. The US company says that in the future Luvo may acquire a voice recognition and speech function, meaning customers calling up the bank will be speaking to an AI machine.
While RBS says that it is trying to improve customer experience, there is little question that the bank also needs to cut costs. Bailed out in 2008, the bank is 73 percent government-owned, and hasn't made a profit in nearly a decade. It remains the third-largest UK bank by value of assets, but has systematically laid off about 5 percent of its staff this year alone.
RBS claims that it is 12 months ahead of its UK competition in its implementation of AI, and other customer service departments will be watching closely if Luvo lives up to its grandiose claims, or turns out to be a bland navigating device, or worse than that, an irritant. Various institutions from financial services giant Mastercard to the London borough of Enfield have already adopted their own AI systems to deal with standard questions.
Yet, even if Luvo does prove successful, it will face a long way to match the charm of Nao, an actual 58cm-tall robot that speaks 19 languages, which has been approaching customers at several branches of Japan's biggest Tokyo-Mitsubishi bank in a pilot project since last year.
You can share this story on social media: