Toyota's robot baby to target Japan's lonely & childless (VIDEO)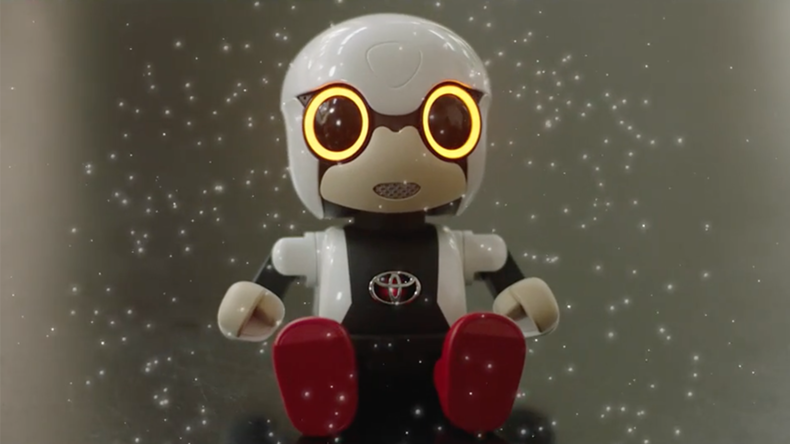 A 10cm (3.9 inches) tall robot with the intelligence of a five year old is being tasked with keeping lonely people company in Japan. Designed by Toyota, companion robot Kirobo Mini looks way too cute to go sentient and enslave mankind - we hope.
Kirobo Mini, meaning Hope Robot, uses voice recognition to recognise its owner and initiate childlike conversation. Chief Design Engineer Fuminori Kataoka told the Japan Times that the robot's big eyes and childlike wobbles are on purpose, designed to look like a cute child and emulate a seated baby. "This vulnerability is meant to invoke an emotional connection," he said.
Kataoka said the robot has emotional value that goes beyond talking into a phone. "Stuffed animals don't answer back, but people do talk to them, like my daughter once did," he said. "But if it talked back, wouldn't that be better?"
Japan's ageing population and declining birth rates have left seniors and young singles alone at home, needing someone or something to talk to, according to Kataoka. The country is already bolstering its workforce with robots, with 314 machines per 100,000 workers, second only to South Korea, according to the International Federation of Robots.
Kirobo Mini marks a further reliance on the country to address economic and social concerns using machines rather than people. The country has been reluctant to accept immigrants, despite facing a predicted decline of 8 million in their workforce by 2030, leaving the country's ageing population with concerns over how they will be provided for when they are elderly.
Kirobo Mini can provide the baby experience for the increasing number of childless Japanese but is also being used by Toyota to accumulate data on drivers in Japan, with the robot coming with a "cradle" that sits the Kirobo Mini conveniently in a car's cup holder.
"With people spending an average of 4.3 years of their lives in their cars (which equates to traveling to the moon and back three times) Toyota believes that much can be learnt about our behavior and emotion while driving," they said in a statement.
The robot could be a friendly reminder to drivers, telling them things such as "Let's take a break" on a long trip, according to Toyota.
Kirobo Mini goes on sale next year at a price of 39,800 yen (US$392). There are no plans to release it outside of Japan at the moment, leaving lonely people to suffer on.