Using foreign affairs to solve internal Tory problems caused Brexit – Italian PM
Published time: 29 Sep, 2016 11:14
Edited time: 30 Sep, 2016 12:45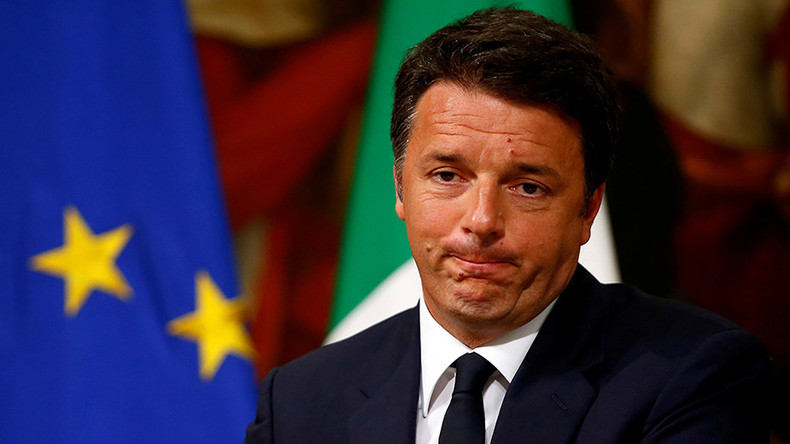 Former UK Prime Minister David Cameron's decision to hold a referendum on EU membership was a misguided attempt to resolve internal problems within the Conservative party, Italian Prime Minister Matteo Renzi has said.
Speaking to the BBC, Renzi, who has called a referendum scheduled for December on Italy's parliamentary system, spoke out against former PM Cameron's decision to hold a referendum.
"The problem was one problem. When David Cameron decided to use a referendum to solve some internal problems of the Conservative Party, this was the problem," he said.
"We cannot use foreign affairs to solve internal problems."
Renzi also told the broadcaster that Britons should not expect any special rights or privileges in the EU as the UK negotiates its exit from the bloc.
He said that although he hopes to secure the "best alliance possible" with the UK, "Brexit is Brexit."
Renzi, of Italy's center-left Democratic Party, warned it would be impossible for current UK Prime Minister Theresa May to wrangle a deal that would both curb immigration to the UK while also retaining the rights of Britons to live and work in EU member states.
"The people of the UK decided the way for the future," he told the broadcaster.
"Now the situation is that we can – and we have to – build the best alliance between the UK and the EU for the future because we will be the best friends for the next years.
"And at the same time I think this decision could push European leaders to invest in a new way for Europe."
He urged May to invoke Article 50 of the Lisbon Treaty, triggering the withdrawal process and negotiate the conditions of departure as "quickly as possible."
Renzi added that although Brexit discussions would be handled by the European Commission rather than individual leaders, he was prepared to work with Theresa May to support the process.
This is the latest in a spate of confrontations and open criticism between EU leaders and Britain.
Earlier this week, a handful of top British ministers were criticized by the European Parliament's chief Brexit negotiator, Guy Verhofstadt, who mocked their mixed messages.
In a Facebook post, Verhofstadt, the former Belgian prime minister, launched a fierce attack on UK Foreign Secretary Boris Johnson and Liam Fox for flip-flopping on key issues of the Brexit campaign.
Verhofstadt noted that on Tuesday, Johnson vowed to support Turkey's bid to join the EU, despite citing the possibility of Turkish membership as a reason why Britain should vote to leave during the referendum campaign.
He also attacked UK Trade Minister Liam Fox for suggesting Britain should leave the EU Customs Union, only for May to quickly come out and say the UK plans to sign an ambitious trade deal with the EU.