UK to help Ankara 'in any way' to join EU, Boris Johnson says on first post-Brexit visit to Turkey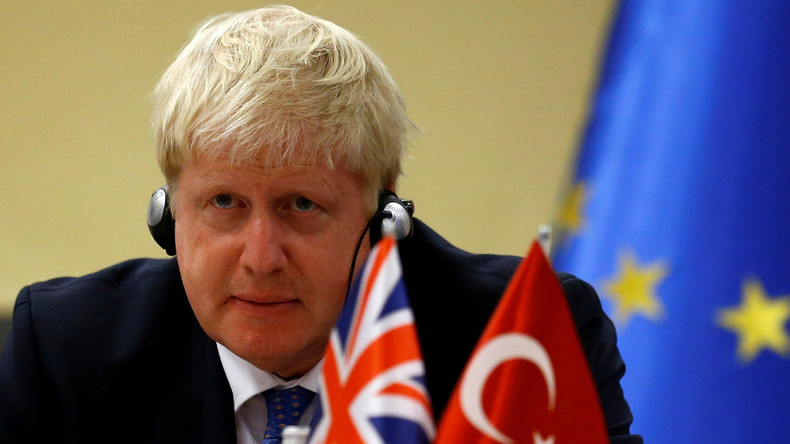 The UK will "help Turkey in any way" to join the EU despite Britain's own decision to leave the bloc, British Foreign Minister Boris Johnson has said, stepping away from the anti-Turkish rhetoric he used during the pro-Brexit campaign.
"We may be leaving the European Union but we are not leaving Europe. And Britain... will help Turkey in any way," he said on Monday, arriving on his first official visit to Turkey as British Foreign Secretary, as cited by AFP. Johnson is scheduled to meet Turkish President Recep Tayyip Erdogan on Tuesday.
The British Foreign Secretary promised that the UK would stand "shoulder-to-shoulder with Ankara," stressing Turkey had a "vital role to play" in the global arena, during a joint press conference with Turkey's EU Affairs Minister Omer Celik.
After visiting the Nizip refugee camp in Turkey's southeastern Gaziantep region, Johnson praised Ankara for the "remarkable work" it was doing to help with the refugee crisis, and President Erdogan "for the generosity you are showing."
He also emphasized how crucial it was for both nations to remain trade partners even after Brexit takes place.
Johnson added that he personally is the proud owner of "a digital, very well-functioning Turkish washing machine."
Johnson's comments come several months after he was awarded £1,000 ($1,298) for winning "President Erdogan Offensive Poetry competition" held by the British conservative magazine The Spectator for a limerick about the Turkish president. The poem calls Erdogan a "w*nkerer" and mentions sex with a goat.
READ MORE: Boris Johnson wins 'most offensive Erdogan poem' contest
As for Omer Celik, he denounced the "anti-Turkish rhetoric" that frequently appeared during the Brexit campaign, saying "We have to close this ugly parenthesis and look to the future."
The Brexit campaign, which Johnson avidly supported, argued that Turkish membership in the EU would potentially result in millions of Turks living freely on UK shores. This was presented as a reason for Britain to abandon the 28-nation bloc.
David Cameron, who resigned from his post as UK Prime Minister after the nation voted in favor of Brexit, said at the time that Turkish EU membership was not even "remotely on the cards" and may not take place "until the year 3000."
Talks on Turkish membership have been going on for a long time, but have not seen much progress. Relations between Europe and Ankara worsened in July after the failed coup attempt in Turkey. Europe has since then criticized President Erdogan for his crackdown on thousands of alleged coup supporters.
READ MORE: Turkish EU bid 'unrealistic' while Erdogan in power – European commissioner
Ankara began formal accession talks with the EU in 2005. In March 2016, the sides reached what seemed like a landmark deal, sealing a joint plan to combat the migration crisis. Ankara promised it would help the EU to deal with the influx of migrants in exchange for additional financial support, renewed talks on EU membership, and visa-free travel to Europe for Turkish citizens. However, talks on Ankara's EU membership have come to a standstill, with EU authorities saying Turkey has failed to comply with all 72 criteria of the March EU-Turkey deal. The EU has been dissatisfied with Ankara's failure to relax its strict anti-terrorism laws, which Europe says are used to silence Erdogan's critics.