Cost of Brexit: Brits may have to fork out for Europe visas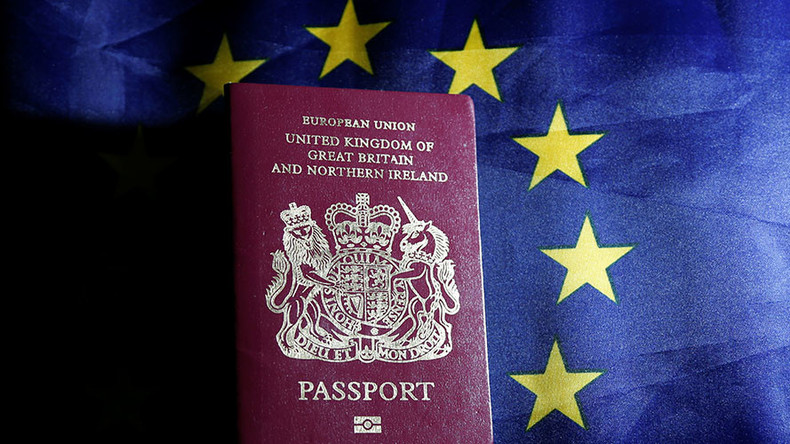 British travelers may soon have to apply and pay for visas to visit Europe as a result of Brexit negotiations, a Tory MP has confirmed.
The scheme reportedly being debated by the executive body of the EU suggests the 26-nation, passport-free Schengen zone – which does not include the UK – could operate something similar to the American 'ESTA' visa waiver program.
Currently British passport holders can travel throughout member states without having to apply for short-term visas, but new travel permits will be on the table when the government negotiates a deal for Britain leaving the bloc.
The process could involve an online application and a fee of up to £50 (US$65).
Home Secretary Amber Rudd said the proposal was a "reminder" that the UK is in a "two-way negotiation" with the EU.
"The EU and the commissioners may be considering issues – they will be considering their negotiation with us, just as we are considering it with them," she told the BBC.
"But I'm going to make sure that what we do get is in the best interest of the UK."
She accepted Britons would be "surprised" about being forced to apply for a visa to travel to places such as France.
"I don't think it's particularly desirable but we don't rule it out because we have to be allowed a free hand to give the best negotiation."
Rudd said the UK will be able to control its borders post-Brexit but stressed any measures introduced would have to be reciprocal. She said the government was seeking the "right balance" in immigration policy.
"Once we leave the European Union we will have complete control over who comes into the UK from the EU and who doesn't, with one or two provisos of course.
"First of all, it's going to be reciprocal, we are going to have to work out what's in the UK's interests ... what works for our economy and making sure that we get the right balance."
Rudd also reaffirmed the Tory commitment to cut annual immigration to the UK from 300,000 to tens of thousands but conceded "it will take some time."
She said it was "too early" to outline the specifics of how that target would be reached, but appeared to confirm that the government was considering a work permit scheme for EU migrants after rejecting the idea of an Australian-style points system.
"I think that work permits certainly have value, but as I say, we're not ruling anything out at the moment."
You can share this story on social media: