Anti-migrant Theresa May calls Polish PM to express 'regret' over post-Brexit hate crimes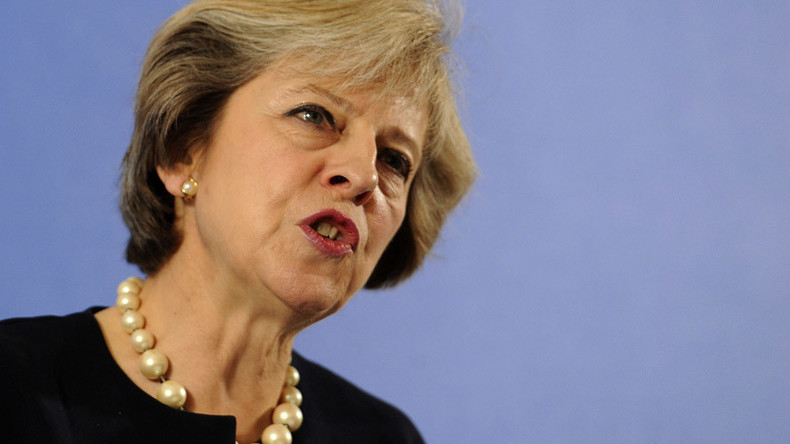 British Prime Minister Theresa May, who is known for her anti-migrant stance, called her Polish counterpart, Beata Szydlo, on Friday to express "deep regret" over hate crimes in the UK.
May told Szydlo that "hate crime has no place in UK society," according to a Downing Street spokesperson., although she did not denounce her own hate speech as Home Secretary, when she aimed "to create a hostile environment" for illegal migrants and rolled out controversial "Go Home" vans.
Her diplomacy came in response to a surge in crimes against migrant communities that followed the UK's Brexit vote in the beginning of summer.
"Prime Minister Szydlo thanked her for the continuing support of the British authorities and expressed her gratitude that the Home Secretary and Foreign Secretary had received their Polish counterparts in London this week to discuss the incidents," a Number 10 spokesperson said.
Arkadiusz Jozwik, a forty-year-old Polish father, was attacked and killed by an angry mob at the end of August and two Polish men ended up in the hospital only days later after they were beaten by a group of thugs.
The Polish Embassy in London has noted 15 xenophobic incidents in recent weeks, the Independent reports.
READ MORE: Polish man dies in 'hate crime' after 20 Essex teenagers launch savage attack
May highlighted "the action that both the Government and the police are taking," the spokesperson added, saying "she updated Prime Minister Szydlo on the UK's new Hate Crime Action Plan and the UK hosted event at the September 26 OSCE meeting in Warsaw."
Though the British Conservative leader has condemned the barbaric attacks, her own track record towards migrants has not been welcoming.
She repeatedly called for cuts in net migration and introduced hard-hitting immigration policies such as splitting up an estimated 33,000 families in the UK because the breadwinner didn't earn enough to support their spouse.
This past week, the Conservative government announced plans to build a 13 foot-high (4m), 3,200 foot-long (1km) wall in the northern French port of Calais to stop migrants and refugees from entering the UK.
READ MORE: Trumped! Massive concrete wall planned for Calais to keep migrants out of Britain