Trumped! Massive concrete wall planned for Calais to keep migrants out of Britain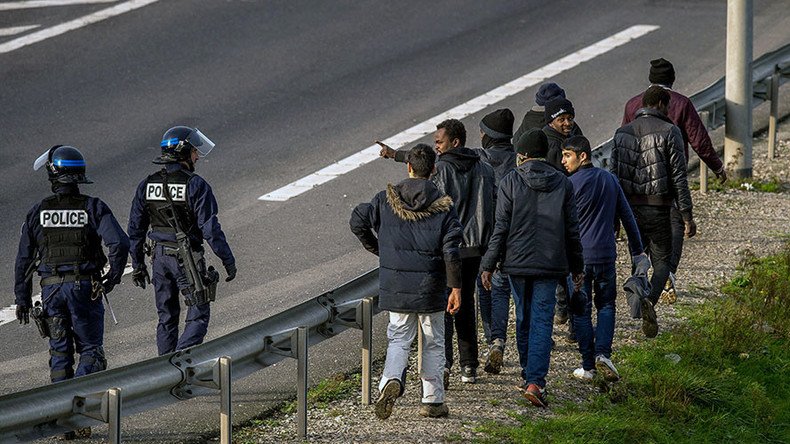 Britain will soon begin building a "big, new wall" at a cost of £2 million ($2.6 million) in an attempt to halt the flow of migrants and refugees crossing the English Channel, Britain's new immigration minister has confirmed.
The 13-foot-tall (four-meter-tall) concrete barrier will replace fencing that has so far failed to prevent migrants from jumping aboard trucks headed for the port. Construction on the wall, which will stretch over the half mile (one kilometer) approaching the ferry port, is set to begin this month.
"People are still getting through," Immigration Minister Robert Goodwill told the Commons home affairs committee on Tuesday.
"We have done the fences. Now we are doing the wall."
Goodwill, who served as transport minister until July, when he took over as immigration minister, told MPs that the project is part of joint £17-million ($22.7-million) Anglo-Franco project to beef up security at the Channel ports.
"We are going to start building this big, new wall as part of the £17 million package we are doing with the French. There is still more to do. We have also invested in space for 200 lorries at Calais so that they have somewhere safe to wait."
Construction of the wall, which will be built from smooth concrete to prevent scaling, is set to be completed by the end of the year.
The move has been criticized by the UK's Road Haulage Association as "a poor use of taxpayer money."
"The money to pay for a wall would be much better spent on increasing security along the approach roads," a spokesperson said.
Hundreds of truck drivers, shopkeepers, farmers, and police officers took part in a protest that blocked the road leading to the port of Calais on Monday demanding that the "Jungle" camp be shut down.
Local activists estimate that the camp is now home to around 9,000 people, while government figures put the figure closer to 6,900.
French Police Commissioner Patrick Visser-Bourdon has said the defenses of the port road were breached 22,000 times in June of this year, compared to just 3,000 times in January, the Telegraph reports.
You can share this story on social media: