Farage, Le Pen 'forces of racism' must not hijack Brexit – Lib Dem leader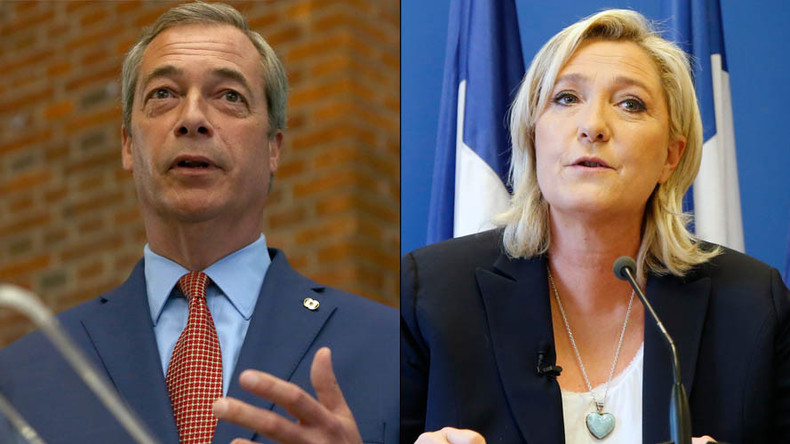 The "racist" and "intolerant" politics of former UKIP leader Nigel Farage and France's Front National leader Marine Le Pen must not be allowed to set the direction Britain will take following the Brexit vote, Liberal Democrat leader Tim Farron warns.
Farron, a prominent 'Remain' campaigner in the run-up to the June referendum, acknowledged 'Leave' voters' "justified anger," but warned Britons against yielding to "racism, intolerance and hate."
"Plenty of my mates voted Leave, and I can tell you that the majority of those who did vote Leave are utterly appalled that Farage, Le Pen and their ilk now seek to claim the result as a victory for their hateful brand of intolerance, racism and insularity," he said in a speech to the Institute of Public Policy Research, a center left think tank, on Tuesday in Manchester.
"Britain is better than that.
"We will not stand by to let Nigel Farage or Marine Le Pen dictate our policy, our direction, or our morality."
READ MORE: Polish man dies in 'hate crime' after 20 Essex teenagers launch savage attack
His comments come after police revealed they are investigating hate crime as possible motive for the murder of a Polish man in Essex. The 40-year-old man was attacked on Saturday and died on Monday. Six teenagers involved in the attack have been granted bail.
Earlier this month, a United Nations report blamed Leave campaigners' "anti-immigrant" rhetoric during the EU referendum for causing a significant spike in recorded hate crimes in the UK.
READ MORE: UN blames 'anti-immigrant rhetoric' of Brexit campaign for spike in hate crime
The UN's Committee on the Elimination of Racial Discrimination noted that prominent political figures created prejudice during the campaign and failed to condemn racist abuse.
.@timfarron immigration is a blessing & not a curse. But concerns are not about immigration it's about lack of housing/services. @IPPRNorth

— Lib Dem Press Office (@LibDemPress) August 31, 2016
In the Manchester speech, Farron also called for increased protections for EU citizens living in the UK.
"We can say to those from other countries who have committed their lives alongside us in the UK, 'We will stand by you, no matter what.'"
Ministers have suggested that such guarantees would be contingent on whether UK citizens living in EU countries would be afforded those same rights.