UK sends destroyer to fight ISIS in Persian Gulf, despite its previous warm water failures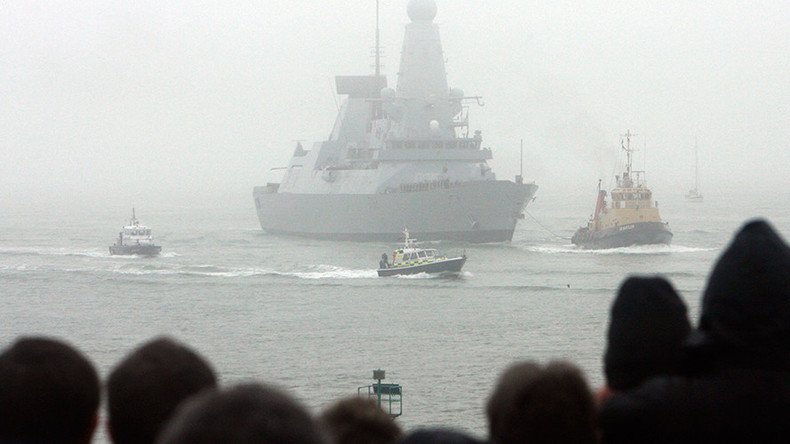 The Royal Navy is sending its lead Daring-class air defense destroyer, the HMS Daring, to the Persian Gulf to help the US-led coalition fight terrorists in the region, but there have been concerns over the warship's technical reliability in warmer climes.
Tasked with protecting US aircraft carriers as they launch airstrikes on Islamic State (IS, formerly ISIS/ISIL) targets in Syria and Iraq, the £1 billion ($1.3 billion) Type 45 warship might be prone to something completely different than the jihadists and their weapons.
The destroyers have previously had technical issues in warm waters, the Royal Navy has admitted, and the HMS Daring has had two such technical failures.
Britain's six Type 45s, its most modern destroyers, are equipped with advanced gas turbine engines, which have "degraded catastrophically" in very warm seas, causing total electrical failure, First Sea Lord Admiral Sir Philip Jones told the House of Commons' Defense Committee while addressing the issue in July.
After his testimony, it was decided to refit the warships to bolster their older diesel engines, and all six destroyers were scheduled to be refitted beginning in 2019. The Navy will not be able to operate them "all the time in every place on every day of the year" prior to the refit, the military official said.
READ MORE: Royal Navy loses its only repair vessel to 'sensible & cost-effective' budget cuts
The HMS Daring, which has a crew of 190, is to depart on its mission from Portsmouth on Friday, UK Defense Secretary Michael Fallon announced.
"With the biggest defense budget in Europe, and the second biggest in NATO, our Armed Forces are making a real difference around the world," Fallon said, in commenting on the destroyer's deployment.
Apart from protecting the coalition's aircraft carriers in the Gulf, the HMS Daring is also expected to be deployed in reconnaissance missions against IS, taking over the responsibilities of another Royal Navy warship, the HMS Defender, which operated in the Middle East for nine months before returning to the UK some two months ago.
You can share this story on social media: