Far-right Britain First banned from every mosque in England & Wales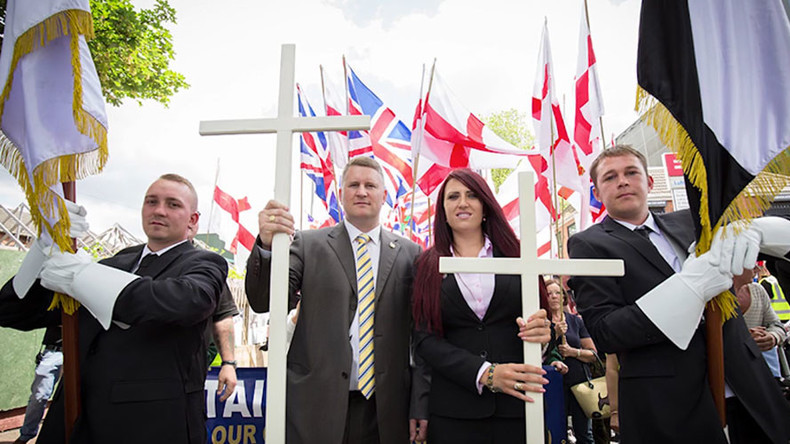 Campaigners for the far-right nationalist party Britain First have been banned from mosques across England and Wales for the next three years. They are also banned from entering parts of the town of Luton.
The ban prohibits the group's leaders, Paul Golding and Jayda Fransen, from entering mosques or Islamic cultural centers or their grounds without prior written invitation. They are also banned from encouraging or giving permission to any other person to enter such premises.
In addition, Golding and Fransen are barred from entering a designated exclusion zone in the Bury Park area of Luton, unless they remain within a railway carriage which is passing through the area. They are also banned from entering an exclusion zone in the town center area.
Furthermore, they are not allowed to publish, broadcast, distribute, or display any images or films in the Bury Park and town center areas.
Local police have been given the power to arrest Golding and Fransen if they breach any of the listed terms.
The injunction was granted to Bedfordshire Police last week, after the force argued the group's activists had been causing "community tensions" in Luton.
Assistant Chief Constable Mike Colbourne of Bedfordshire Police said in a statement that applying for the injunction was "not a decision we take lightly."
"Luton is an incredibly diverse and vibrant town and we will not tolerate any individual who seeks to cause disharmony or provoke tensions within our communities. I would like to be clear that we would never seek to ban demonstrations or peaceful protest, however we have a duty to protect our communities and will always act in their best interests," he said.
Golding has spoken out against the injunction, saying: "People who care about democracy should be screaming from the rooftops about this, because a legal political party has been banned from a town center."
"When has a British police force been this aggressive? In a way, we are flattered that the state is spending so much time and money to ban us … they consider us to be worrying," he told the International Business Times.
Golding had originally said his party would fight the injunction. However, a hearing due to take place at the High Court in September was canceled after Britain First's legal team agreed not to contest the order.
He said the party faced incurring "between £50,000 and £100,000" in legal costs if it lost, potentially bankrupting the group.
"If they [Bedfordshire Police] got any of their seven demands then they would have got legal costs," Golding said.
"We were in a lose-lose situation...we have managed to wriggle our way out. What can we do if they are using an unlimited amount of taxpayers' money?"
The move comes after Britain First staged controversial protests in Luton, in which one of its "Christian patrols," handing out anti-Islam literature while holding aloft white crosses, got into a standoff with residents in Bury Park in January.
Set up by former members of the British National Party (BNP), Britain First insists its demonstrations are peaceful, and has accused police of restricting its freedoms as a registered political party. The group has often been referred to as racist and fascist, though it denies such claims.
Last week's injunction comes after a failed attempt by Bedfordshire Police to ban the group from Luton town center in June 2015.
You can share this story on social media: