Far-right Britain First leader claims police banned him from Skype for 'wearing political uniform'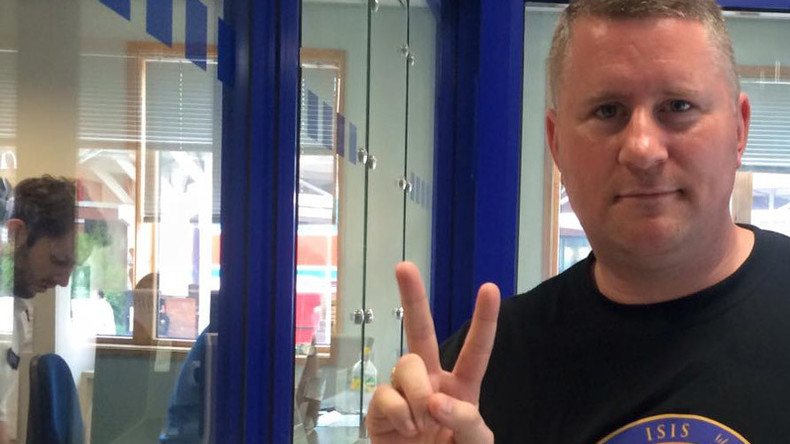 Britain First leader Paul Golding claims police ordered him to refrain from using Skype and said he must report to a police station every day following his arrest for wearing a "political uniform" earlier this year.
The latest bail restrictions come after the far-right leader was detained on Tuesday, five months after his initial arrest for handing out anti-Islam Britain First leaflets in Luton.
The group, an offshoot of the British National Party (BNP) formed in 2011, is known to carry out mosque invasions, hold anti-Islam protests and hand out Bibles to Muslims.
Bedfordshire police argue the Britain First sweatshirt Golding was wearing at the time constitutes a "political uniform," under a 1936 law originally passed to curb the rise of Oswald Mosley-era British fascism.
Writing on the Britain First Facebook page, Golding described the bail conditions as "worthy of a mass murderer" and accused Luton police of "waging an all out campaign of harassment and obstruction" against the controversial far-right group.

"You couldn't make this nonsense up! Talk about police harassment!" he wrote.
The newly imposed restrictions also temporarily ban Golding from entering or encouraging others to enter the town of Luton.
A spokesperson for Bedfordshire police said: "Paul Golding, 34, has been charged with wearing a uniform signifying association with a political organization under the public order act in relation to an incident which occurred on Saturday, January 23."
Golding is due to appear at Luton Magistrates Court on August 5 alongside his deputy, Jayda Fransen, who was arrested with him in January.
It emerged on Wednesday that Bedfordshire police are seeking an injunction that would ban Golding and Fransen from entering any mosque or Islamic cultural center in England and Wales as well as certain parts of the town of Luton.