British girl forced at gunpoint to marry Pakistani cousin, raped daily for 3 yrs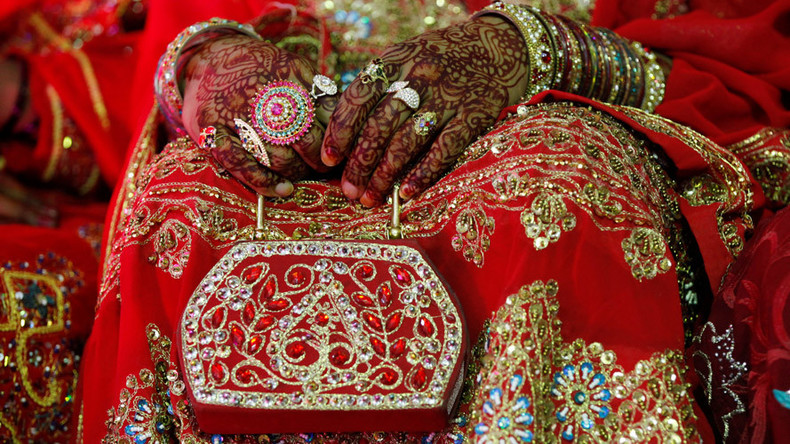 A 15-year-old British teen claimed she was forced to marry her cousin at gunpoint in Pakistan during a family trip - and ended up being raped every day by her new husband.
Tabassan Khan, which is not her real name, told the Sunday Express that she thought she was going to Pakistan for summer holidays with her aunt, who cared for the girl and her three brothers after her father murdered her mother when she was 12.
But the teenager from Doncaster in South Yorkshire said her holiday turned into a nightmare when she was forced at gunpoint to wed her cousin, who was six years older than her, and then held captive for three years, raping her on a daily basis.
Now 26, Khan said she was forced to marry the man for him to get a British visa.
READ MORE: 'Honor killing': Relatives murder Pakistani pregnant woman
"I thought I was going to Pakistan on holiday, I was excited," she told the paper. "Then two months passed and it was time to start the school year. I asked my uncle when I should go back and he just kept saying, 'stay a bit longer' for weeks."
After four months, she said her uncle went to Khan's room with a gun and gave her an ultimatum to marry her cousin. If she refused, he threatened to kill her brothers, she claimed.
"I was terrified, but felt I had no choice," Khan said. "On my wedding night my cousin raped me. I thought my cousins were my family. It felt so wrong. He raped me every night for three years. I felt like I was a sex worker, stuck in that room. I was ashamed."
Describing her ordeal, the forced marriage survivor endured three years of torture before being granted a divorce by a local court in Pakistan and returning to the UK in 2008.
Khan now works with the organization 'It's My Right: No Forced Marriages' to spread awareness on the issue in schools and is urging the British government to protect girls who are sent abroad in similar circumstances.
The government introduced the Forced Marriage Act in 2007, but the action was later criminalized under the Anti-social Behaviour, Crime and Policing Act 2014.
"In Muslim culture, the girl is supposed to do as she is told," Khan added. "The backward people from villages in Pakistan think they can do what they want with us. Our lives mean nothing. We are just a way to get a visa. They will do anything to get someone over here."
Campaigners in Pakistan have long criticized the country's track record for failing to protect women against forced marriages, many of whom are blackmailed against their will for family "honor."
Most recently, British-born beautician Samia Shahid was reportedly strangled by her ex-husband during a trip to Pakistan for marrying a person of her choice.
READ MORE - Double honor killing: Pakistani man murders his 2 sisters on eve of weddings
Forced marriage cases are often linked with South Asian cultures, but they occur in the western cultures as well.
In the US, Warren Jeffs, the former leader of a conservative Mormon sect, was accused of organizing illegal marriages between his older male followers and underage girls.
He was later convicted of sexually assaulting two girls aged 12 and 15, who he considered his "spiritual wives."
In Kansas, a conference aimed at arranging teen marriages for Christian homeschoolers this year was criticized as promoting the matrimony of girls as young as 12 with the consent of their parents.
The concept of what became known as 'shotgun weddings' dates back to passages in the Book of Deuteronomy, which issues guidelines for premarital sex.
The section found in the fifth book of the Torah and the Old Testament of the Bible says that if a virgin is raped by a man who is not pledged to be married, the man must pay the victim 50 shekels and take her as his wife with the vow to never divorce her.
Fact: The holy bible says a woman can be sold to her rapist after he violates her... (You can find it in Deuteronomy 22 : 29)

— El Señor - Essai (@MMBM_LOAG) August 1, 2016
Nowadays, the concept of shotgun weddings often refers to when a father resorts to using a weapon to ensure a man who impregnated his daughter follows through on his obligations.
Or it's used rhetorically.