Nigel Farage aide held in US on money laundering, extortion & fraud charges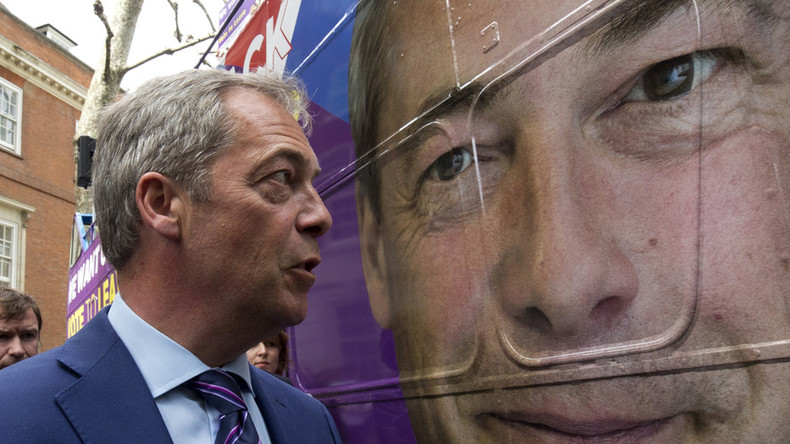 An aide to Nigel Farage is facing money laundering and blackmail charges in the US after being arrested while trying to travel back to Britain with the former UKIP leader.
George Cottrell, 22, a party activist from an aristocratic family, allegedly agreed to launder money for undercover agents posing as drug traffickers. According to court documents, he faces 21 charges relating to money laundering, fraud, blackmail, and extortion.
The pair was travelling together when Cottrell was arrested at Chicago's O'Hare airport in July after visiting the Republican Party convention in Cleveland.
Cottrell, who is thought to be worth around £250 million and helps to run Farage's office, is in custody in the US awaiting trial.
An Arizona federal indictment says that, using the alias "Bill" on the 'dark web' in 2014, Cottrell agreed to launder drug proceeds to offshore accounts with "complete anonymity and security."
He allegedly met undercover agents in Las Vegas, arranging for them to transfer $20,000 (£15,500) to an associate.
Read more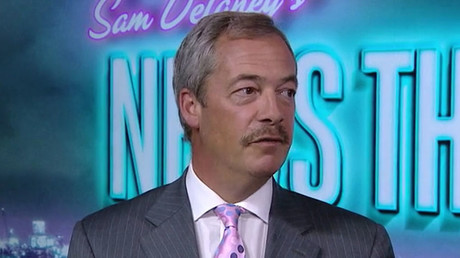 Cottrell has also been accused of trying to blackmail the fake drug traffickers by threatening to report them to police unless they paid him 130 bitcoin, then worth around $80,000 (£61,000).
He was denied bail by a judge who said he "poses a serious risk of flight," citing "a serious, years-long gambling problem which inherently suggests a strong possibility of irrational risk-taking."
According to the Daily Mail, Cottrell's bank and email accounts have been frozen, leaving Farage unable to access his personal diary.
Farage says he knew nothing about the allegations.
He told the Sunday Times: "This is a 22-year-old unpaid volunteer and party supporter so I didn't know anything about this, of course not. Given that he is in a situation where there are a series of allegations against him which he is defending against, I'm just going to say nothing."
UKIP insiders said Cottrell was a familiar face on the campaign bus as Farage traveled around the country campaigning for Brexit.
One senior party source said: "I first remember him helping out for a few days during the Oldham by-election campaign [last December]. Then during the EU referendum campaign, when there were huge media scrums, he'd be one of the guys to jump off the [UKIP-branded Brexit] bus and go ahead to find street stalls and shops happy to speak to Nigel.
"He was efficient, hard-working, friendly, generous. He took the piss and had the piss taken out of him in the normal way. We're all rather taken aback at the allegations."
Lord Hesketh, Cottrell's uncle and former hereditary peer, worked for former-prime minister Margaret Thatcher before losing his seat in 1999. He later defected to UKIP.
Cottrell's mother, Fiona Cottrell, is the daughter of another peer.
A photograph has emerged of the young aide recently visiting the BBC's Andrew Marr Show with UKIP donor Arron Banks.
UKIP's finances ended last year more than £850,000 in deficit, according to its latest accounts reported by the Telegraph.
The party spent £6.7 million during the year, surpassing its £5.8 million overall income, owing to general election outlays and a 4.5 percent fall in membership.