Op Ed: BLM UK is necessary in fight to end police violence against black communities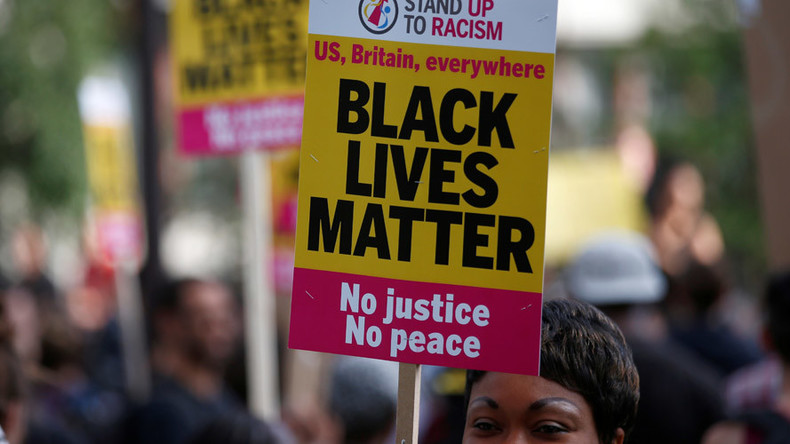 Richard Sudan
Last night following an organized protest by campaign group UK BLM (Black Lives Matter) a smaller group of activists managed to block the main junction in Aldgate, East London, for an hour.
There were chaotic scenes as traffic traveling in all directions was brought to a standstill as the activists echoed the action of other BLM UK protesters earlier in the day, who halted traffic on Friday morning heading into Heathrow Airport by blocking the M4 motorway.
The direct action was part of a national day of protest by UK BLM organizers focused around the call to end police violence, which disproportionately impacts black communities as well as affecting the wider population. The timing was significant because this week marks the fifth anniversary of the police killing of Mark Duggan, which led to the historic English riots of 2011.
Even more significantly perhaps, is the London Metropolitan Police has recently been suggesting that a repeat of the London riots is a matter of "when" rather than "if." Indeed, the insurrection in Hyde Park just a few weeks ago was a reminder that further disturbances are likely to be on the way.
When we look at all of the factors, which lead to rioting and civil unrest, the conditions are indeed the same if not worse. Not only have the Met issued warnings, but various focus groups have also come to the same conclusion; continuing police violence with no justice and public accountability, high unemployment and low youth provision, coupled with an increasingly right-wing government/kleptocracy makes for a lethal cocktail.

Street racism post-Brexit is a serious issue in itself as the London Met have acknowledged with a 60 percent hike. These are facts. But racism in the form of unchecked police, government implemented 'austerity,' and a crooked justice system protecting bigger criminals is the real issue at play.
READ MORE: 'Justice for Mark Duggan' march in London 5yrs after shooting death sparked major riots

Since the 1990s more than 1,500 people have been killed while in custody of the police. No officers have ever been jailed. For families and campaigners who have lost loved ones in custody, the BLM UK campaign is not new. It's been going on for decades, but was recently brought into the limelight following action taken by BLM activists in the US.
The United Friends and Families campaign hold an annual procession each year acknowledging the long list of names and families still seeking justice for families members killed and brutalized by the police.
This is a little bit of context to recent events here in the UK, but there is much more to say. Last night and yesterday morning, activists decided to take action, in order to highlight the issue of deaths in police custody to the UK.
They succeeded and did it peacefully. We always hear from those voices who find such protests to be an 'inconvenience,' but last night during the protest at Aldgate I spoke to a few motorists who were stuck in the traffic.

One young man I spoke to who happened to be white told me that although he was trying to get somewhere, he supported the action of the activists. He told me his partner was a Jamaican woman and that their child was of mixed heritage. As a white man, BLM mattered to this young father.

This is London, and if you'll pardon the pun, while racism is a clear issue, at the same time, calling for an end to unchecked police violence is not a black and white issue. Many Londoners come from very diverse families and understand that ultimately, to confront injustice benefits everyone.
Today, Tottenham one of the poorest and most ethnically diverse areas of London will march from Broadwater Farm to Tottenham Police station to remember Mark Duggan, and the long list of those in Tottenham who have suffered police violence.
The BLM UK campaign is building, and will continue to do so for as long as there continues to be one rule and set of laws for the police, and another for the public. Campaigners and activists who are calling for an end to police violence are not asking for a favor or anything extra. They simply want justice.